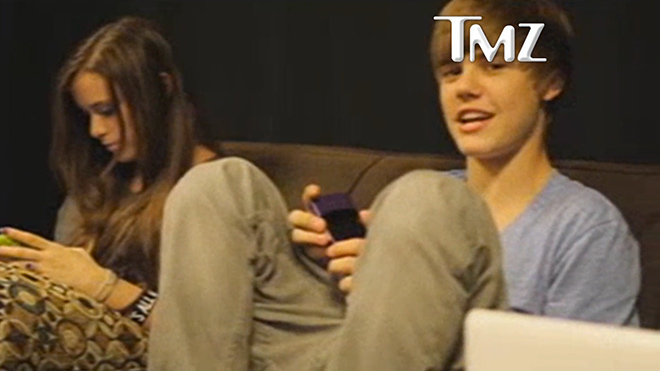 On Sunday morning (Jun 1), TMZ and the UK's Sun released years-old video footage of a young-looking Justin Bieber telling a "racist" joke to friends, and by the end of the day, Bieber had apologized for it.
According to TMZ and the Sun, the video was shot backstage at a promo event while the singer was filming his "Never Say Never" documentary, which was released in 2011.
"Why are black people afraid of chainsaws?" Bieber asks with a grin on his face. An off-camera voice urges "Don't even say it…" but he says it anyway. "Run n**ga, n**ga, n**ga, n**ga," Bieber says laughing, imitating chainsaw sounds.
TMZ said they've had the video for 4 years, but they didn't post it initially "because he was 15 and immediately told his friends what he did was stupid," but after the Sun released it Sunday, they did too.
After the video was put out, Bieber was said to be "frustrated and sad" and he apologized in a statement he released Sunday afternoon:
"As a kid, I didn't understand the power of certain words and how they can hurt.

"I thought it was ok to repeat hurtful words and jokes, but didn't realize at the time that it wasn't funny and that in fact my actions were continuing the ignorance.

"Thanks to friends and family I learned from my mistakes and grew up and apologized for those wrongs. Now that these mistakes from the past have become public I need to apologize again to all those I have offended. I'm very sorry.

"I take my friendships with people of all cultures very seriously and I apologize for offending or hurting anyone with my childish and inexcusable mistake. I was a kid then and I am a man now who knows my responsibility to the world and to not make that mistake again.

"Ignorance has no place in our society and I hope the sharing of my faults can prevent others from making the same mistake in the future. I thought long and hard about what I wanted to say but telling the truth is always what's right.

"Five years ago I made a reckless and immature mistake and i'm grateful to those close to me who helped me learn those lessons as a young man. Once again….I'm sorry."
Justin's apology seems pretty genuine, but that hasn't stopped folks from calling him a racist, which is something Bieber's friends are defending the singer against.
Floyd Mayweather Jr., who's been friends with Justin for years, was the first big name to come to his defense in light of the scandal. He wrote on Twitter:
Justin has been nothing but kind to me, my daughters & sons over the years. We all make mistakes when we are young, it's part of growing up.

— Floyd Mayweather (@FloydMayweather) June 2, 2014
I am proud of what he's doing as a 20 year old musician and business man. #TMT http://t.co/K08cmJm95b http://t.co/IlwS9JmhMc

— Floyd Mayweather (@FloydMayweather) June 2, 2014
JB's BFF Soulja Boy also stuck up for him, telling TMZ, "Let the kid live. We all slip up, we all make mistakes. You know he's not racist. If all his homies are black, he's not racist."
Also cheering for Team Bieber was the Pop star's former bodyguard Kenny Hamilton, who took to Twitter to explain how he knows for a fact that JB is NOT a racist, he's just horrible at telling jokes.
We all make jokes about people's size, look, or race. That doesn't mean it's right but comedians make millions of dollars profiting off…

— Kenny Hamilton (@KennyHamilton) June 1, 2014
…of these jokes. If someone is racist or prejudice you would know from a persons actions. Not because of a joke a 15 year old says.

— Kenny Hamilton (@KennyHamilton) June 1, 2014
What I do know whole heartedly is @justinbieber is not prejudice nor is he racist. He wasn't raised that way and his family isn't either.

— Kenny Hamilton (@KennyHamilton) June 1, 2014
Yes he said some bad jokes and I know if he could he would take back what was said. He's grown a lot in 5 years and as we all grow we learn

— Kenny Hamilton (@KennyHamilton) June 1, 2014
He will always be criticized and judged every day of his life by people who only know him because of blogs or the press. That won't change

— Kenny Hamilton (@KennyHamilton) June 1, 2014
As a black man I am telling the world that @justinbieber is not a racist. I have known him since he was 12 years old and I know his heart.

— Kenny Hamilton (@KennyHamilton) June 1, 2014
Do you think Justin Bieber is a racist?