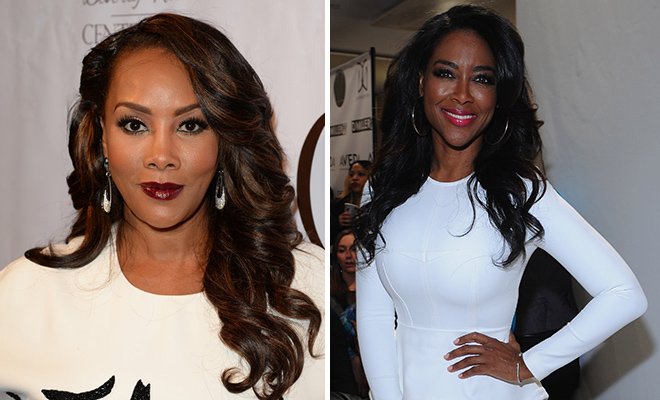 Everybody hates Kenya!
While NeNe, Porsha, Phaedra and the rest of the "Real Housewives of Atlanta" cast may be forced to put up with Kenya Moore's messy antics, her (now former) "Celebrity Apprentice" co-star Vivica A. Fox has let it be known that she will not be.
Last week we told you about how Kenya pulled a nasty prank on Vivica by stealing her phone and posting a message on Viv's Twitter account complaining about menopause.

The tweet has since been deleted, but Kenya was reportedly fired from the competition after Donald Trump blasted her as the "most evil woman" he's ever met in his life.
Vivica hadn't spoken on the issue until last week when she called Kenya out on Twitter for being a "lying trick":
Was trying to hold my tounge ya'll but I can't stand a lying trick! GAME ON TRICK pic.twitter.com/L57uAqRRPK

— Vivica A. Fox (@MsVivicaFox) May 21, 2014
And just in case anyone had any questions about who Vivica was referring to, she followed up with another tweet, this time using Kenya's name:
FYI! My last tweet was in response to me making it clear that I do believe 100 percent that Kenya stole my phone! Trick Chick ; (

— Vivica A. Fox (@MsVivicaFox) May 21, 2014
Kenya's response on Instagram was, of course, very subliminal and full of shade: