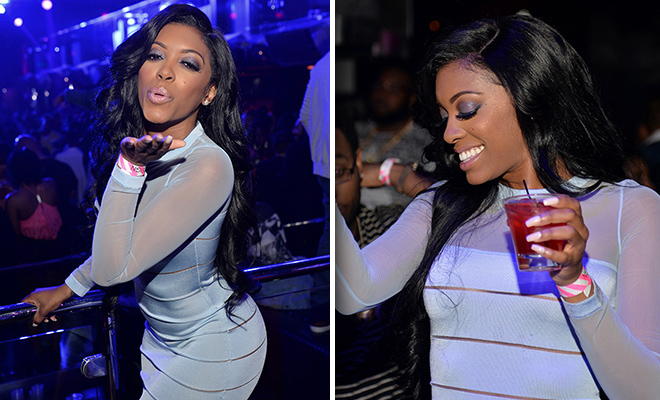 Fresh off her appearance at the Fulton County Jail Wednesday (Apr 16), "Real Housewives of Atlanta" star Porsha Williams made another appearance Thursday night at Atlanta's Reign Nightclub, where she was spotted partying it up with some of her friends and her sister/assistant Lauren.
Williams was forced to turn herself in to authorities Wednesday on an arrest warrant for battery, which was filed by her "RHOA" castmate Kenya Moore, who received the ass-whooping of a lifetime at the hands of Williams during the show's season 6 reunion special taping last month. The fight will air tomorrow night!
Before turning herself in to take that famous mugshot of hers, Williams posted a lighthearted selfie on Instagram, with the caption, "But 1st let me take a selfie!" In the image, she has on the same exact outfit and makeup as she did in the mugshot.
Meanwhile, a source tells Hollywood Life that Porsha is embarrassed that she attacked Kenya and is "extremely nervous" that she's going to be fired over it.
"It's too much," an insider close to Porsha tells HollywoodLife.com EXCLUSIVELY. "She's with her attorneys and she's going to fight this all the way to the end of time unless Kenya finds some compassion and stops being a diva and asks that the charges be dropped."

HollywoodLife.com previously reported that Kenya broke "girl code," and Porsha is not happy about it. "This is work. This is their jobs," says the insider. "When Porsha popped [Kenya], she runs and calls the police. That's not right. Kenya needs to be a big girl and stop yapping before this happens again."

"She's very upset she hit Kenya," the source adds. "She's upset she embarrassed herself and her family's name. She's devastated and hates even looking at the video. She's really embarrassed."

"She let Kenya win. She let Kenya get the best of her and made her react in a way that's she's never reacted in her life. Porsha was really caught up in the moment," the source says.

"She's nervous," the insider tells HollywoodLife.com EXCLUSIVELY about Porsha's pending firing. "She likes all the girls except Kenya, and wants to be asked back, but no decision has been made," as we reported previously. "If she had to do it all over again she'd fight Kenya with her words. She's keeping a low profile for now and hoping for the best."
Check out the photos of Porsha Williams partying at Atlanta's Reign nightclub here:
Published