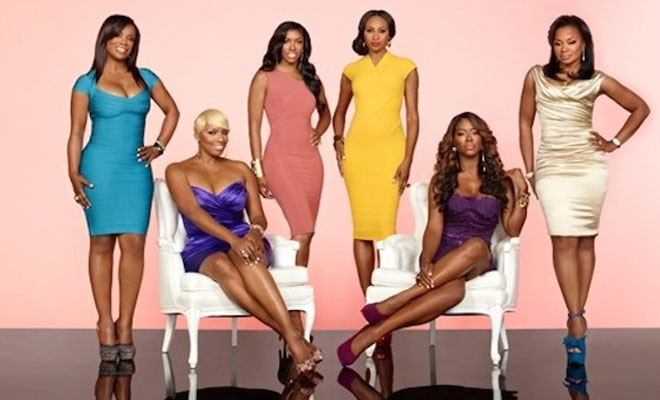 The drama-filled sixth season of the "Real Housewives of Atlanta" has finally come to a close.
In tonight's season finale, it's just days before the debut of Kandi's musical "A Mother's Love" (Have you seen the trailer? You should definitely check out the trailer!), and she's nervous about it because she wants everything to be perfect.
Especially since Mama Joyce will be watching from the audience, and you know … the whole thing is basically about her, so Kandi is certainly worried about what type of reaction she's going to have to it.
On the personal side of things, Todd hasn't signed the pre-nup, and Kandi doesn't understand what's stopping him. Kandi says none of her friends had to deal with a negotiating fiancé and she doesn't understand why Todd is making the process difficult.
Kenya has a funeral for her doggy baby Velvet (R.I.P. Velevet — and NO, she didn't fake Velvet's death).
Cynthia — with the help of her sister Malorie tries to get all sexy and what-not for her husband Peter, who, at first laughs at the setup but but eventually gets into the spirit.
Porsha officially signs off on her divorce papers and she gets emotional while discussing the situation with her family. She ends her scene by taking her wedding ring off and dropping it in a glass of champagne(?), but we all know after the cameras cut off she ran back in there and dried that expensive piece of jewelry off.
Everyone — except for NeNe, who gets admitted to the hospital after complaining of chest pains following her trip across the country — meets up to see Kandi's stageplay MUSICAL at the Rialto.
From what we can tell, everyone — including Porsha, surprisingly — did their thing in Kandi's musical, and the audience (which also included Tyler Perry) seemed like they certainly enjoyed it too. EVEN MAMA JOYCE, albeit reluctantly (the footage of her in the audience was HILARIOUS), but baby steps, folks, baby steps.
WATCH THE "REAL HOUSEWIVES OF ATLANTA" SEASON 6 EPISODE 22 (FINALE) ABOVE
Published