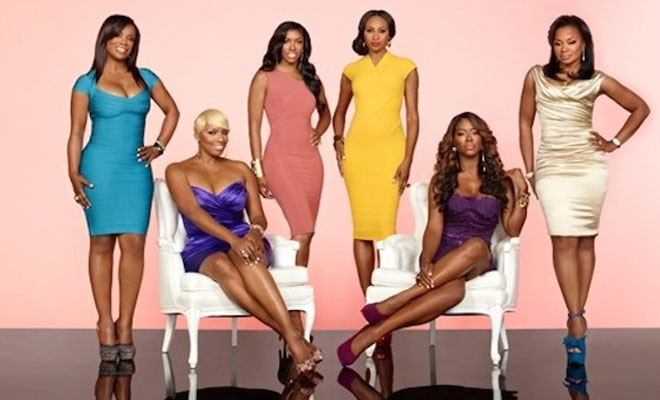 It's so hard to say goodbye to your pocket pet. Kenya Moore has been on edge about having a baby but little did she know she would lose her doggy baby, Velvet.
In a sad twist of events, Kenya Moore's beloved dog Velvet somehow ended up in the jaws of a neighborhood dog. There weren't any specifics given in the episode beyond that, but what kind of vicious monsters are the people in Kenya's neighborhood breeding?
Beyond Kenya's unfortunate loss, Kandi is consumed with her play — and Porsha's uncommitted work ethic with regard to it. In a much needed, "come to Jesus" meeting, Kandi politely lets Porsha know that her crew has not been pleased with her work ethic in the play so far. After a pathetic attempt to deflect her missed rehearsals on Kandi's team, Porsha realizes she's been caught out there and promises to re-commit to the show.
Meanwhile, in NeNeland, we find out that Lenethia has been blessed with her own clothing line on the Home Shopping Network. NeNe tries to spin this an example of one door opening after another has closed, but really, ain't no fashion empire been built on the back of a Home Shopping Network.
But get them coins, NeNe.
WATCH "RHOA" SEASON 6 EPISODE 21 ABOVE
Published