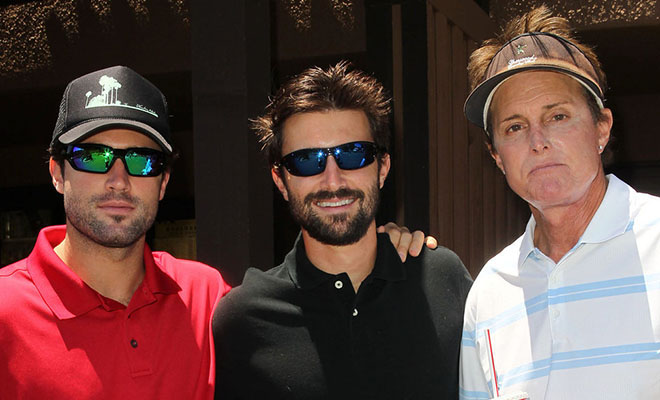 Brody and Brandon Jenner — Bruce Jenner's adult sons with his second wife Linda — are reportedly blaming their stepmom Kris Jenner for introducing plastic surgery to the family, which they believe sparked their father's addiction to body modification.
"They do believe that Bruce became more conscience of his physical appearance and how he looked after Keeping Up With The Kardashians premiered," a source told Radar Online. "They blame their step-mother (Kris) for all of the plastic surgery he has had over the years."
The insider continued, "Kris always encouraged Bruce to have his face nipped and tucked. He has had plastic surgery to remove excess fat above his eyelids. The Adam's apple surgery is just following in that pattern."
Brody, 30, and Brandon, 32, also laughed off rumors that their father is preparing for gender re-assignment surgery. "The boys don't think their father is trying to become a woman and simply laugh at rumors," the insider said.
Bruce Jenner's youngest kids, Kendall and Kylie — his two daughters with his third (and now estranged) wife Kris Jenner, don't know what the hell is going on and are very confused about their father's recent change in appearance.
Also, dealing with their parents separation has been "hard for the girls…they have always been closer to their dad because Kris had been busy for so many years with their older half-sisters. It was always Bruce driving the girls to and from school," the source added.
"He wants to spend time with them, but it's hard for them to get all the way over Malibu where he is living. Plus, they would much rather be with their friends, which is typical for teenagers. Still, they miss their dad, and just don't know what to say about what is going on with him."
Published