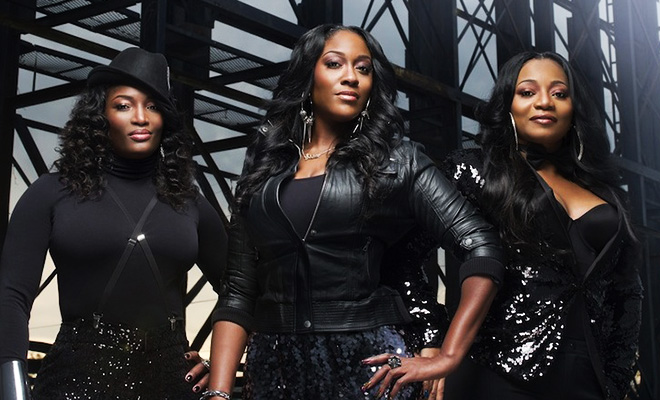 After a 15-year hiatus, the 90's R&B/Pop trio known as SWV is back with a brand new reality series called "SWV: Reunited," which premiered Wednesday night (Jan 16) on WE TV.
According to the press release, "SWV Reunited" follows the Grammy-nomiated "Sisters With Voices," better known as "SWV" during their make-it-or-break-it comeback tour.
In the '90s, the ladies of SWV — Cheryl "Coko" Clemons, Leanne "Lelee" Lyons and Tamara "Taj" George — were on top of the music world. From the streets of New York to superstardom, they had a string of top ten R&B hits including "I'm So Into You," "Right Here," "Downtown," "Weak," and "You're Always On My Mind."
With over 15 million albums sold, a Grammy nomination, an American Music Award nomination and 11 Billboard Music Awards nominations, SWV was unstoppable. But while they seemed to have it all, the drama behind the scenes tore the group apart.
It didn't just end, it ended badly; and in 1998 the members of SWV went their separate ways. Coko went on to release a solo album and Taj married NFL star Eddie George and also starred in a joint reality show "I Married A Baller," which aired on TV One.
The premiere episode of "SWV Reunited" follows the ladies on the first stop of their comeback tour at Wembley Stadium in London, but new never before heard secrets about Coko's health threaten the rehabilitated bond of the group.
Throughout the series, SWV fans will get to see the group in action during performances in Atlanta, Washington DC, Los Angeles, and New York.
Coko, Lelee and Taj not only address old wounds like trust, jealousy, egos and selfishness, but face new challenges including health scares, family issues and management drama.
And although they share plenty of tears, the ladies share lots of laughter — whether it's poking fun at Lelee's butt lift, Coko's tummy tuck or sharing hilarious behind-the-scenes stories from their early years.
Can the ladies of SWV finally come to terms with the issues that ended their friendship and career once before? Will they be able to put their differences aside to recapture fame?
WATCH "SWV REUNITED" SEASON 1 EPISODE 1 ABOVE
Published