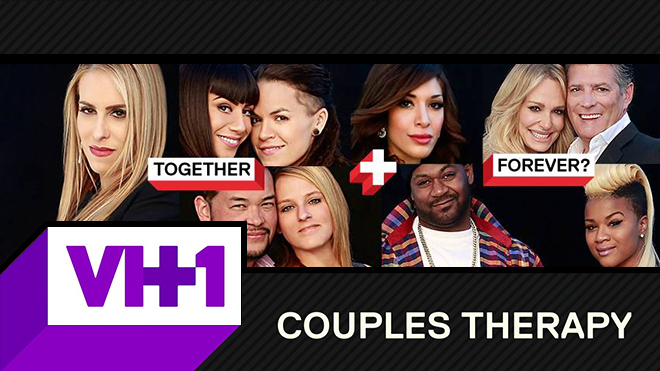 Relationships are hard enough, but imagine the pressure of having your hook ups, "bumps" on the relationship road and breakups as fodder for the tabloids.
More and more, it seems couples whose matters of the heart play out in the public eye are calling it quits and throwing in the towel on their relationships.
Why is it so tough for these couples to stay together? Looking to shed light on the issue, VH1 will examine the complicated and often misunderstood world of high-profile relationships with VH1 Couples Therapy.
In season 4 of "Couples Therapy" we will get a look at four-and-a half couples who are facing very complicated issues never before discussed on the show made even more complicated when half of one couple is a no-show.
Taylor Armstrong (RHOBH) & John Bluher, Farrah Abraham (Teen Mom), Ghostface Killah (Rapper) & Kelsey Nykole, Whitney Mixter (The Real L Word) & Sara Bettencourt (The Real L Word) and Jon Gosselin (Jon & Kate + Eight) & Liz Janetta will all take a seat on Dr. Jenn Berman's couch.
Couples Therapy Season 4 begins with a new group of celebrity couples with extreme issues coming to therapy with Dr. Jenn Berman and her staff for help healing their broken relationships.
Shockingly, one of the women is stood up by her boyfriend at the last minute and she arrives alone and heartbroken, and another couple's trust and fidelity issues explode before therapy can even begin.
WATCH VH1 "COUPLES THERAPY" SEASON 4 EPISODE 1 ABOVE!
Published