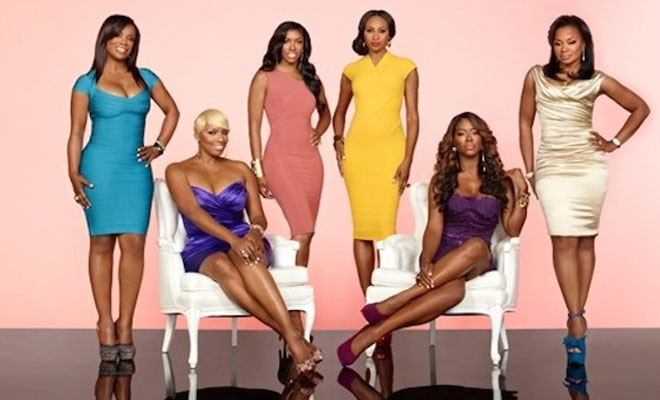 Mirror, mirror, on the wall, who's the meanest "Real Housewives of Atlanta" mama of them all? Here's a hint: It ain't Leneathia Leakes.
Mama Joyce continues her reign of terror in the latest episode of RHOA when Kandi invites her over for dinner to hash things out with Todd, her fiance. Showing buckets of patience and kindness, Todd swallows Mama Joyce's insults and jabs with a gentleman's kindness. Kandi on the other hand, fails to check her mother and lets her run roughshod over her loved ones.
At some point, will the real Kandi please stand up?
Meanwhile, NeNe has to deal with hanging out in Atlanta some more as her so-called Hollywood life is put on hold. "Glee" is postponed due to Cory Monteith's death and her show, "The New Normal" got cancelled so RHOA is all she's got. That leads the producers to send NeNe on a trip to the grocery store with Cynthia where the two gossip about Cynthia's daughter having a boyfriend.
Last season NeNe was strolling around Hollywood Hills and now she's strolling around the aisles of Whole Food. Ain't it funny how the table turns?
As for the other ladies, Phaedra heads to Alabama for a study group with her mortician pals; Porsha goes apartment hunting and Kenya moves into her new residence.
WATCH EPISODE 5 OF THE SIXTH SEASON OF RHOA ABOVE