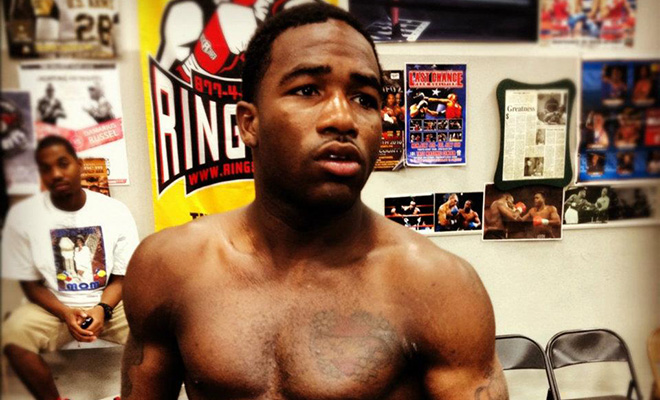 Professional boxer and part-time rapper Adrien Broner is the latest celebrity to star in a homemade sextape.
Video footage showing the three-time world champion engaging in a threesome with two supposed strippers emerged online yesterday.
WorldStarHipHop initially posted the clip, but the page hosting it has since been removed from their site, though the actual NSFW video is still viewable online here.
The undated video itself is extremely graphic and it's hard to decipher if the man in the clip (who appears to be having unprotected sex with the women) is actually Adrien Broner, but given his history, we wouldn't be surprised.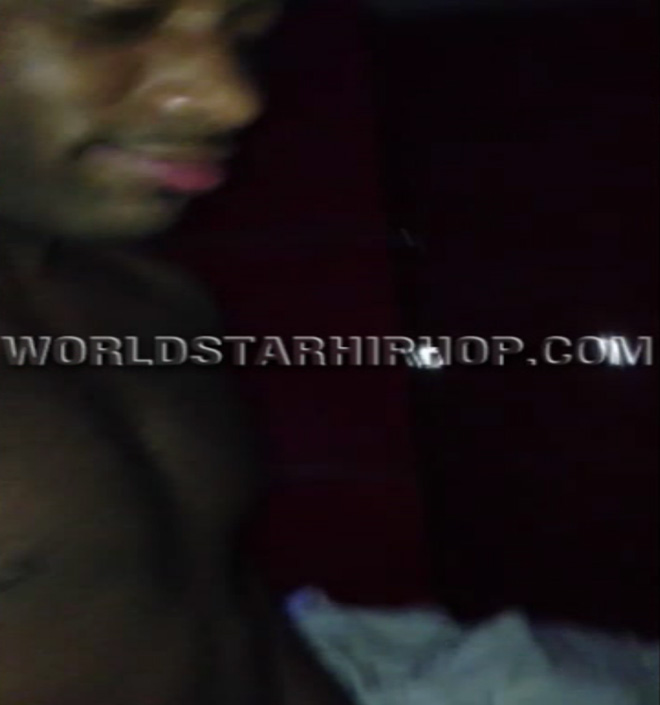 If that is Adrien in the video, then this wouldn't be the first time the 24-year-old's raunchy sexual antics have been displayed all over the Internets.
Just last month, the undefeated 27-0 fighter, who is often compared to Floyd Mayweather (for his boxing, of course), posted a VERY NSFW image on Instagram showing two women giving him head "at the same damn time," as he astutely noted in the caption.
Also, earlier this year, WorldStarHipHop posted a video that shows Broner performing cunnilingus on a stripper ON STAGE. In front of everyone.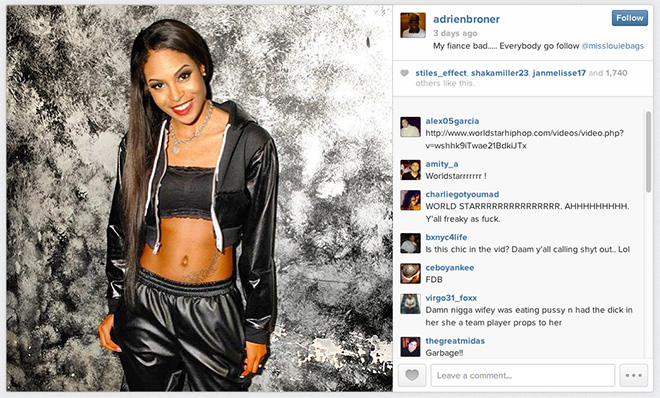 Meanwhile, Broner seems to be in a relationship with a woman whom he wishes to propose to one day.
Ironically, just three days prior to the threesome clip leaking, he posted this on Twitter:
I'm go marry @MissLouieBags

— Adrien Broner (@AdrienBroner) October 26, 2013

The next day, he tweeted this:
My fiance bad….. Everybody go follow @misslouiebags http://t.co/M4f1rPA4U9— Adrien Broner (@AdrienBroner) October 28, 2013
And in another bit of irony, he shared this with his Twitter followers the morning the video leaked:
Can't wait until I get engaged foreal …… I am just waiting for the right time to purpose ????— Adrien Broner (@AdrienBroner) October 29, 2013
After the video leaked, with this explanatory tweet, Broner pretty much shrugged his shoulders, but with words:
Hey I didn't put that out but it is what it is I'm sorry y'all— Adrien Broner (@AdrienBroner) October 29, 2013
His girlfriend/future fiancee didn't seem to mind that a video of her man raw-dogging a pair of strippers was being shared all over the Internet either:
People try to send me stuff of adrien I already seen smh. — ?Arie? (@MissLouieBags) October 29, 2013
Looks like they have a pretty healthy relationship, no?
Published