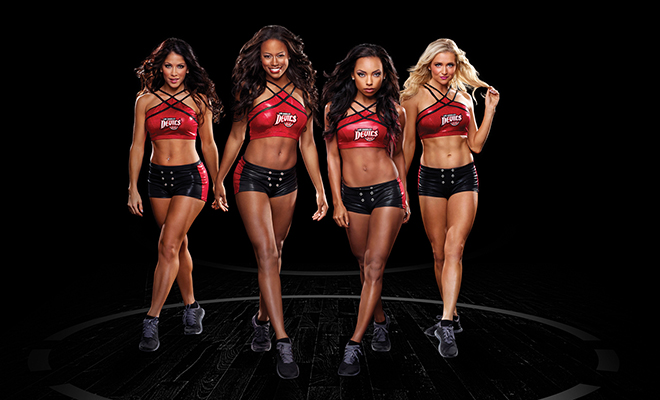 Baby, when the lights go out, anything can happen. Especially since Derek Roman and Ahsha find themselves trapped in close quarters in an elevator with no power.
VH1's sexy new scripted series "Hit the Floor" takes a look at the lives of a fictional NBA cheerleading squad in Los Angeles. The show, which follows Ahsha (Taylour Paige) as she navigates her weigh through the competitive squad, mixes sexy urban pop music with steamy love scenes and bucket loads of flesh-baring eye candy.
Ahsha rebelled against her mother and joined the L.A. Devil Girls cheerleading squad despite her mother's warning. And each episode, she sinks further and further into the twisted world of professional sports.
After star Devils player Derek Roman paid $100,000 for the luxury to dancing with Ahsha, her boyfriend German can't help but feel a little bit insecure about his position. After all, what's a high school gym coach's lifestyle compared to a star basketball player's?
Ahsha insists that she is fully dedicated to her boyfriend and feels no attraction to Derek's brash, arrogant, cocky ways. But the chemistry between the two of them says otherwise.
Speaking of chemistry, Pete Davenport and Sloane have been butting heads so far, but could the frost around Sloane's heart finally start melting now that she and her daughter Ahsha are back on speaking terms?
WATCH EPISODE 6 OF HIT THE FLOOR BELOW