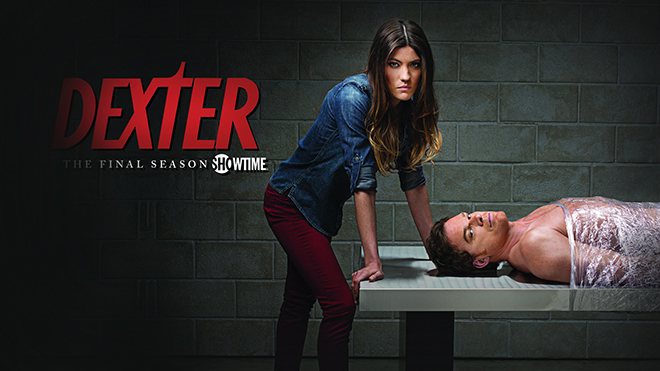 In honor of this being the last season of "Dexter," Showtime has released the (heavily censored — no cuss words, no nudity) very first episode of Season 8 in its entirety.
The "Dexter" Season 8 premiere episode, titled "A Beautiful Day" — set 6 months after Maria LaGuerta's death — opens on a happy note with Dexter and Harrison playing with a kite, then later celebrating a soccer championship win. Dexter's personal life couldn't be better either, as he's gotten his bowling team back together, and he's having casual sex now, which is different for Dexter since he only has sex when he's in a relationship so he won't seem weird.
While Dexter's life is "better," his sister Debra's isn't. Overcome with guilt from shooting LaGuerta, she quit Miami Metro in the most Debra way possible — by going out to lunch and never coming back. Also, no one's heard from her in months, and she even missed a ceremony honoring LaGuerta and revealing a new concrete bench memorial in her honor, though who could blame her?
Now that she's no longer a detective, Deb has joined a private investigation firm where she works undercover to help nab criminals. Or she could just be doing that to score free drugs and have sex with criminals. Since this is Deb we're talking about, and she's gone off the deep end, it's probably more of the latter and less of the former.
A new serial killer is on the loose, and his first victim's head was sliced open and he's missing a piece of his brain. Enter Dr. Evelyn Vogel, he neuropsychologist with a very keen "interest" in serial killers, who has been brought in to assist with the case. And she gives Dexter the creeps, especially with the way she stares at him during the morning briefing, and the tone she uses with him later while interrogating him about the Bay Harbor Butcher.
In the episode's final moments, Dr. Vogel meets Dexter sitting on LaGuerta's memorial bench, but he tries to shoo her away. "Now is not a good a time," he says. So instead, she just hands him an envelope and casually walks off as he quickly unravels it to reveal its contents.
Apparently, this woman knows a lot about Dexter, and that envelope was full of some murderous drawings by some psycho killer kid named "Dexter." Ohhh, wait! Those are DEXTER's drawings, from when he was a kid!
Once he notices his name, Dex goes right after Vogel, but there's one problem. "You can't kill me … because I don't fit Harry's code," she says.
Uh-ohh….
WATCH THE "DEXTER" SEASON 8 PREMIERE (IN FULL, BUT TOTALLY CENSORED) HERE: