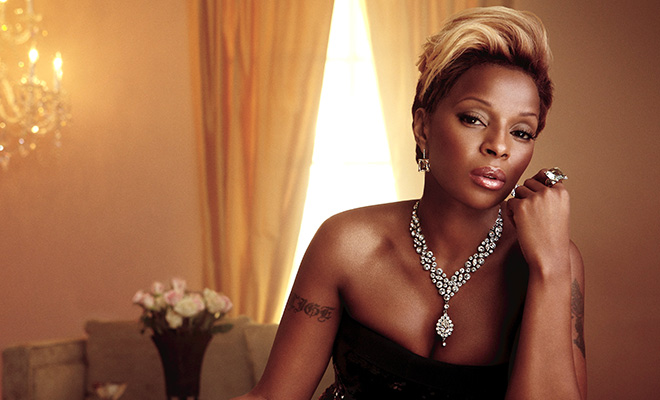 Mary J. Blige has two albums in the works — including a holiday-themed project. That can either be really, really good or absolutely abysmal.
Based on the current list of collaborators, I'm angling towards the latter although I adore the Queen of Hip Hop Soul.
You know, given it's MJB, I wouldn't mind a bunch of soul songs ala Donny Hathaway's "This Christmas" along with some sad, I cannot stand that damn man who broke my heart and ruined my holiday ham tracks. Basically, 8-10 songs that sound like Mary's "No Happy Holidays.
Yeah, I'm here for that, but I don't know about what she's got in her head right now.
Maybe you'll be more into it (via Charleston Scene):
For her next project, Blige plans to release a holiday album dubbed "A Mary Christmas" this fall, featuring singers such as Jennifer Lopez, Marc Anthony and even Barbra Streisand, with whom she duets a "jazzy version" of "When You Wish Upon a Star."

She's also at work on her next studio album of original material. Although the initial plan was to follow "My Life II" with an "Act 2," she's decided to take a new approach for the collection.

"We're in the process of beginning that. I've already come up with the title and started writing songs," says Blige, emphasizing that penning new lyrics doesn't just happen spontaneously.

"You really have to focus on it," she says of the songwriting process. "For me, I have to be living what I'm saying. I have to be around what I'm writing about. Sometimes if a word comes to mind, you have to type it down into your Blackberry or on a piece of paper so you don't forget it, but that's the only thing that happens on the fly. As far as writing goes, you have to concentrate to be in it."

Even with ongoing challenges in her life, Blige claims that the themes of her newest songs are rooted in a "consistency of strength."

"Plenty of people are struggling who are trying to do good and do right every day, but they get attacked, I guess by the way the world is," says Blige. "I want to inspire people to keep their dreams alive and keep their hope alive, and I can do that through songs — through happy songs and through sad songs — as long as I let people know you've just got to keep going."