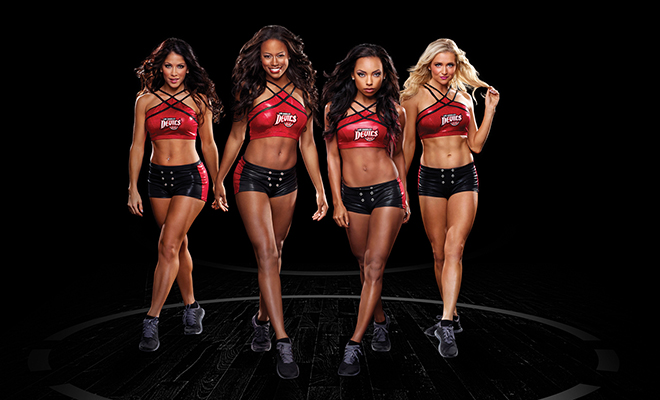 When Ahsha is tasked with putting on a sexy show for the Devils' annual calendar, she struggles to tap into her inner pin-up model.
VH1's sexy new scripted series takes a look at the lives of a fictional NBA cheerleading squad in Los Angeles. The show, which follows Ahsha (Taylour Paige) as she navigates her weigh through the competitive squad, mixes sexy urban pop music with steamy love scenes and bucket loads of flesh-baring eye candy.
While Ahsha has the body of a supermodel, she has the confidence of a girl from the book club. Her nice girl side doesn't allow her to purse her lips and stoke that fire of desire with a seductive look in her eyes.
Sensing her discomfort with playing sexy, Jelena (played by Logan Browning) plots and sets Ahsha up for failure by pretending to graciously cede the most sought after month in the calendar. What seems like a gesture of kindness is indeed just Jelena's way of ensuring Ahsha's meltdown happens on the biggest stage platform.
But inspiration to pull through comes from an unexpected source: Derek Roman (played by McKinley Freeman). The only problem is he's a Devils player and Ahsha has a boyfriend she's in love with. Are we in for a dangerous love triangle?
Meanwhile, Ahsha's biological father, Devils Coach Pete Davenpourt (played by Dean Cain), attempts to iron out some kind of understanding with his one-time lover Sloane (played by Kimberly Elise) about their past and their future together as parents.
WATCH EPISODE 4 OF HIT THE FLOOR BELOW