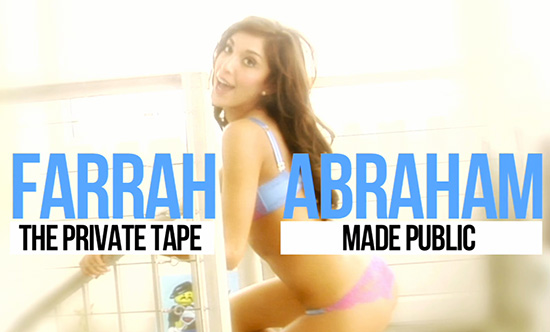 You've seen her on MTV as a teenage mother … but now you can see her doing something she's actually good at.
Farrah Abraham's now infamous "sex tape" with porn star James Deen has hit Vivid and the site introduces the footage better than we ever could have:
From Iowa cheerleader to MTV Teen Mom star, midwest beauty Farrah Abraham breaks free with her most daring video ever, Farrah Superstar: Backdoor Teen Mom. Made originally as a personal 'boudoir' tape, Farrah decided to release the video to her fans due to overwhelming response once news of the tape became public. Shockingly explicit, she takes James Deen as you'd never imagine, in a backdoor scene you'll never forget. With her tight young body and totally uninhibited sexuality, it's no wonder why she wanted to capture this moment in time. And now you can too!
The tape begins with Farrah deciding on what to wear. She goes through a giant bag of lingerie that a friend lent her (gross!) and brags about the fact that she doesn't have any underwear on. Yet when Deen attempts to get a crotch shot, the amateur porn star becomes ever so modest and attempts to block him from putting the camera up her dress.
After all, it's not like she's filming a sex tape or anything, right?
In fairness to Farrah, she's rather observant when it comes to her own ridiculousness. "I don't know why I'm putting on lingerie when you're just gonna take it off of me," she says. We agree.
Playfully frustrated, Deen refers to her as a "retard" and it's all downhill from there. For instance, when Farrah strips off her dress, she yells "Boobs!" — just in case Deen, who has appeared in hundreds of adult films, isn't sure how to identify breasts.
She then asks, "Is my booty right? My non-cornbread booty."
We looked up the slang term for cornbread and according to the Urban Dictionary, it is defined as follows.
1. A girl with an extremely large ass, this refers to the fact that she must "eat her cornbread" in order to obtain such a fine ass.

2. Money a prostitute makes from performing anal sex acts, as in getting cornholed.
Funnily enough, the second definition now applies to Farrah.
Another high point is when she refers to Deen as a "butt-head" and he refers to her as a "slut."
But our favorite quote has to be when she attempts to unbutton Deen's pants.
Deen: "Do you know how buttons work?"

Farrah: "No, not today. I forgot my brain when I came to hang out with you."
After engaging in a bit of foreplay, Farrah gets up to find some lube because "we're gonna do anal later." After all, it's called the "Backdoor Teen Mom." And down the stairs she goes to retrieve her lube but not before proclaiming, "my ass is shy."
"I haven't done this in forever," she says, "Never, in Neverland."
The rest of the tape is pretty much Farrah yelling "harder" while engaging in pretty much every sex position possible.
Here are her five best lines.
"My brain is like off. You fucked my brains out."

"My ass is in pain."

"There's something wrong with me."

"My ass is seeing stars."

"There's cum in my eye ball."
And though Deen has many great quotes, we forgot them all after he said this one:
"Are you wiping cum off your face with a pillow?"
Yup, very much like Teen mom … this video is much better with the sound OFF.
We're also going to have to acknowledge a quote from the comments section that read: "This guy is giving her ass the beating her parents should have given her a long time ago."
Good observation!
Anyhow, after a brief (and uneventful) shower scene, we are treated to a eyeball scalding limo ride. At first, Farrah pretends that she doesn't know why Deen is filming her but that jig is up pretty quickly because, surprise, she forgot to wear underwear!
Fun fact: Farrah carries lube and a "magic wand" sex toy everywhere she goes. We know this because she retrieves the two items from her purse and then uses them on herself.
Whoever was driving the limo … our thoughts and prayers are with you.
If you're interested in watching Farrah's 90-minute sex tape (even though we already did so you don't have to), you can either pay to watch the full thing on Vivid or you can watch this 5-minute clip on Gawker.
Published