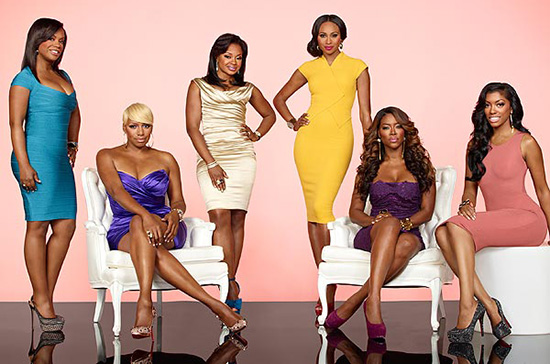 All's well that ends well for the ratchet ladies of the "Real Housewives of Atlanta" in the show's stunning season 5 finale.
Kenya Moore decides to throw a costume ball and in a bid to unite the ladies for a night of fun, glamour and fabulousness, she assigns each of the gals an iconic black actress and character to emulate. But Mrs. Porsha decided not to stick with her assignment as Halle Berry from "B.A.P.S." because she was convinced that Kenya was trying to make her look like a fool. (As if that's hard to do.)
Porsha let friends and family get in her head and even though she thoroughly enjoyed being ratchet in the "B.A.P.S." costumes, she flipped the script and went as Halle Berry's Dorothy Dandridge character.
READ THE OFFICIAL GOT RECAP FOR THE RHOA SEASON FINALE
Womp, womp. Porsha's desire to appear safe, sterile and neutral is exactly why she's one of the duller Housewives castmates.
But get into NeNe Leakes as Grace Jones in "Boomerang", Kandi as Angela Basset in "What's Love Got to Do with It?", Cynthia as Diana Ross in "Mahogany" and Phaedra as Eartha Kitt's Catwoman.
WATCH "RHOA" SEASON 5 EPISODE 20 BELOW:

[MWP]