Instagram, being one of the newest forms of social media has definitely provided another platform for celebrities to gain fans daily. People on Instagram love to follow their favorite celebs to get an inside look on what they're wearing, or simply just to be up to date with their everyday moves. But Harlem rapper Cam'ron — the head honcho from the (once disbanded but now back together) rap group Dipset — has taken Instagram to another level. And when we say another level, we mean soft porn.
Cam and his longtime girlfriend JuJu, who is now his fiancée, are working their way to becoming one of instagrams top stars. Recently Cam has been posting explicit pictures of his fiancée which have been rather distasteful, but that's what the fans love right?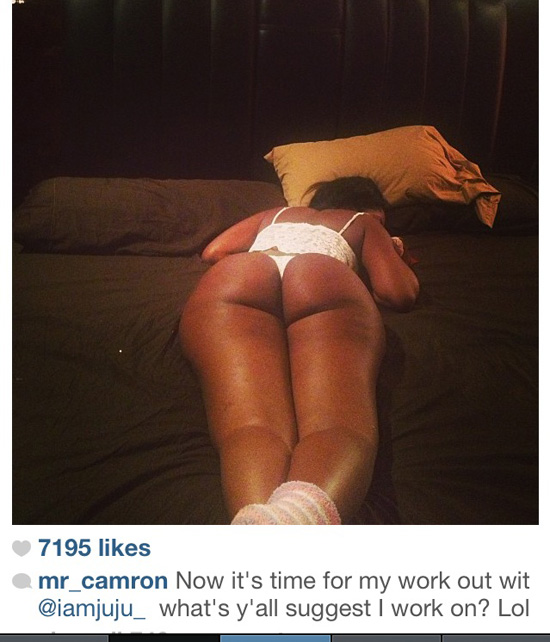 A few days ago Cam posted a picture of JuJu lying face down, ass up on the bed wearing what appears to be a thong and a tank top.
The very revealing photo puts a lot of emphasis on her assets, with the caption from Cam: "Now it's time for my work out with @iamjuju_ what ya'll suggest I work on? Lol" with a little over 7,000 likes.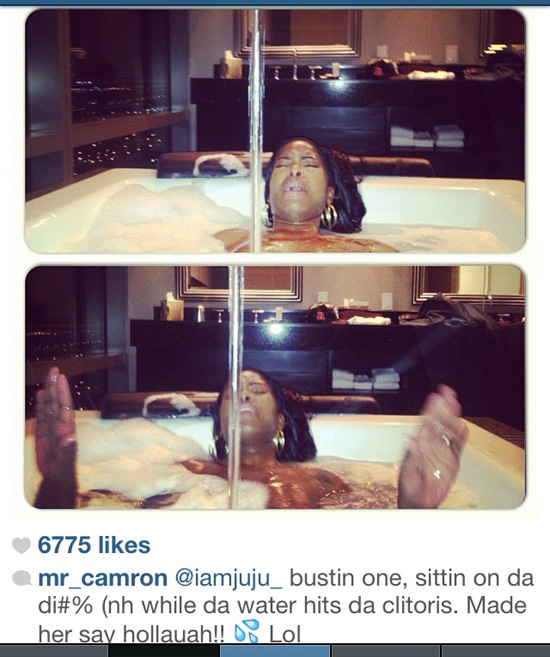 And another crude photo of JuJu from Cam'ron's Instagram feed shows her sitting in a bath tub, not looking directly in to the camera, and making some very orgasmic faces. Caught up in "the moment," I guess.
The caption for that one reads: "@iamjuju_ bustin one, sittin on da d$%# while da water hits da clitoris. Made her say hallelujah!!" with only a sad amount of 6,775 likes.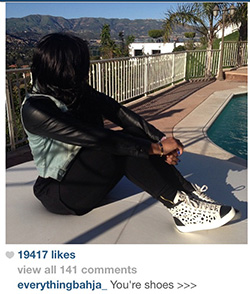 That's nothing when you have people like Toya Wright aka Lil Wayne's baby mama, a reality TV star, who can post a simple picture of her sitting poolside completely covered up with over 19,000 likes. (See right)
Not to mention she has about 788,000 followers on instagram, and Cam'ron only has about 167K.
But something tells us Cam'ron and JuJu are definitely up to something. And we wouldn't be surprised if that "something" turned out to be a reality show, because those two are waaaaaaayyy too pressed for face time on the Internet, if you ask us.
If you recall, Joe Budden from "Love and Hip Hop" NY did the same thing with girlfriend Kaylin Garcia before he landed his spot on the show.
He was posting pics of her daily on Instagram half naked and all. His followers on Instagram started to increase and so did hers. Before you knew, it bam. Love and Hip Hop NY aired, and there she was making appearances on the show, alongside her man, who stars on the show.
So we see what you're trying to do Cam. You ain't slick!
Either you're trying to have your fiancée get a name for herself, or you two have something in the works that we should be on the look out for.
I mean we get it, use these social media platforms to your full advantage if it has the potential chance of pumping life back into career. Just don't get too desperate and thirsty for attention, because that's not gangsta.