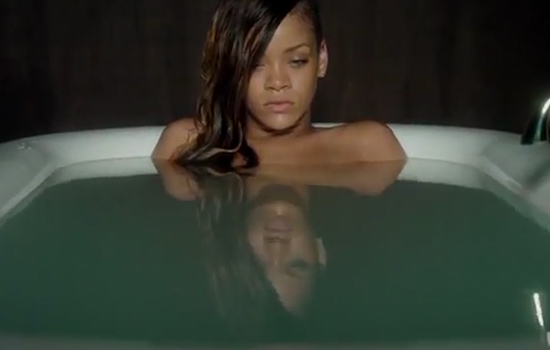 Rihanna showed off a more subdued side to her when she performed her newest single "Stay" at the Grammys the other night.
Today, Rihanna debuted the video exclusively on E! and simplicity is the word to describe it. Rihanna is filmed in a bathtub for the whole video and doesn't even start singing along to the song until almost the end. She sports a half-shaven do and practically no makeup.
It's a change for Rihanna, who usually looks utterly glamorous and is usually dancing up a storm in her videos. However, this video shows off Rihanna's more mature and emotional side and helps her step out of her comfort zone.
Check out the video below:
UPDATE: Apparently, there are two versions of Rihanna's "Stay" video. The OFFICIAL version is below, while the original version we posted (a director's cut, maybe?) follows right after: