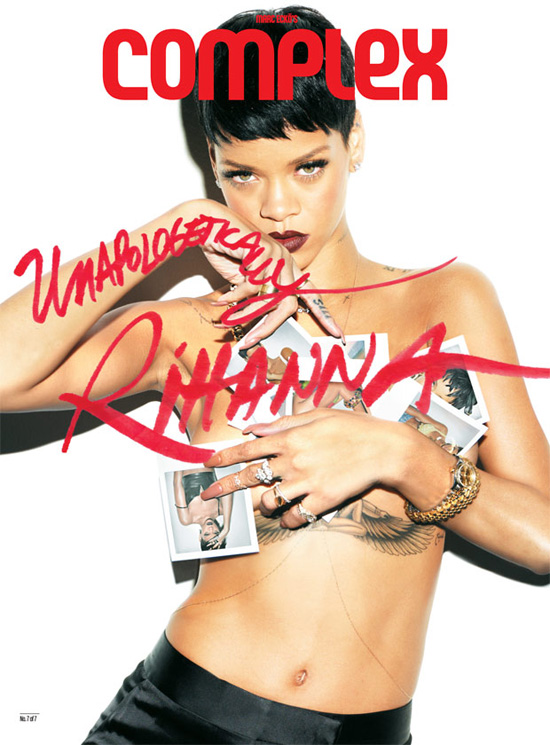 Rihanna is so hot that she's not just featured on one, two, three or four Complex magazine covers … but SEVEN of them!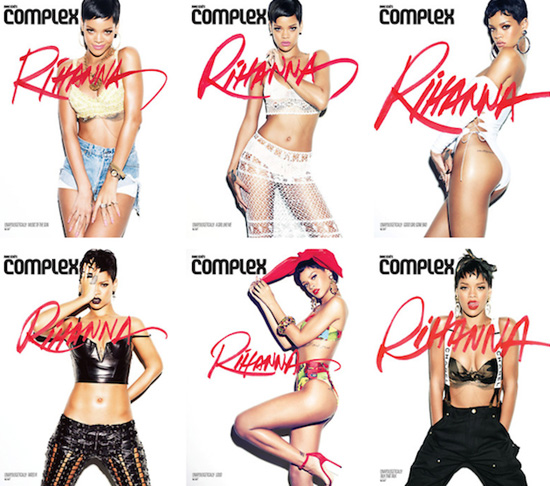 In honor of the release of her seventh studio album 'Unapologetic,' Rihanna shows off her sexy body on seven different covers for the February/March 2013 issue of Complex.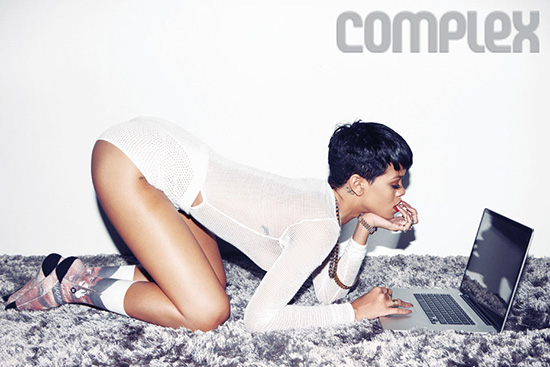 Inside, she not only continues to show off that hod bod of hers in more photoshoot pics, but also opens up about her penchant for taking self portraits and posting them to Instagram. But she's still not talking about her relationship with Chris Brown, which she maintains is "Nobody's Business" — just like their song.
Check out a few excerpts from the interview below, and the photoshoot right after!
Rihanna on loving to take self portraits for Instagram:
"It's narcissistic, but whatever—everyone does it," she says. "I'm capturing personality… Everybody has their thing they like or don't like to see. It's all in your head. That's why people take their own pictures, because it's difficult for someone else to capture what you seek."
She also gives a little advice about taking the best portraits of yourself:
"Get a good light. Get a good angle on what's working for you that day. If it's boobs, make sure you hit that. If it's face, make sure it's fierce."
And talks about the public's opinion of her relationship with Chris Brown:
"People take the little bit of information they're fed, and they draw a picture of who you are," she says. "Most of the time it's wrong."
Also, on having not a single fuck to give while making her 'Unapologetic' album:
"When I was making this record I had no intention except the truth," she says. "So whatever is there is real. It's raw. That's why the album is called Unapologetic."

"I held back before. I didn't show a lot of myself. I was very guarded," she says. "I needed to be open and free and fearless. Basically say, 'Fuck it.' What's the worst that can happen? They'll hate me? They've done that before."
On why "Diamonds" is her favorite song since "Umbrella":
"It was so inspiring and uplifting," she says. "It was giving me hope, that song. I was tired of angry love songs. Love doesn't always have to be about breakups, and 'We're never going to be together again.' It could be sweet. It could be, 'Hell yeah! We're diamonds!'"
Rihanna's manager Ty Ty on how Chris Brown ended up on "Nobody's Business" and why their team had no second thoughts about it:
"We don't focus on the media, so it was never a question," he says. "It's all about the music. Everything else doesn't even play a part in the studio."

He insists that the record wasn't made with Brown in mind. "The-Dream didn't write it for them as a duet. Jay-Z and I were in the car together listening to the song, and we thought it would be a great duet. It sounds dope. It feels good. That's how Chris ended up on the song."
And last, but certainly not least, was this, at the end of the interview:
Before leaving the restaurant for the airport, Rihanna addresses one last question. It's the biggest question surrounding the song: If her relationship with Brown is truly nobody's business, then why make a record about it?

Her voice, usually warm and cut with chuckles, turns cold. "Pardon me?" she replies, her eyebrow slightly raised. Even after the question is repeated, she hesitates to answer. The hands that moved up and down throughout the conversation, suddenly fall flat.

"It's the truth. Remember?" she says, turning toward the other side of the table to gather her belongings. As she gets up to leave, she adds: "It's a fun record that The-Dream wrote and we loved the lyrics. You're still asking me questions about it so clearly you don't know."
[Complex]