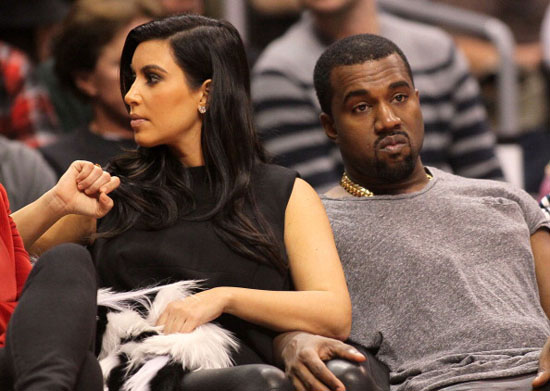 Did Kanye West just announce that Kim Kardashian is pregnant?!?
Kanye West is currently performing a set of sold out shows at Revel Resort in Atlantic City, New Jersey … and according to a large number of tweets coming in from concert-goers, the rapper may have announced that his girlfriend Kim Kardashian is pregnant.
Kanye West just announced Kim Kardashian is pregnant!

— Team Kanye Daily (@TeamKanyeDaily) December 31, 2012
One fan tweeted that Kanye pointed out Kim in the audience, and referred to her as his "baby mama":
Ok so kanye west told everyone at his concert to make some noise for his baby mama and pointed to kim kardashian hahaha — Chris McConnell (@chrismcc35) December 31, 2012
Following a report from notorious tabloid site Media Take Out, rumors about Kim Kardashian being pregnant with Kanye West's baby have been swirling for the past few days. But a so-called family insider slammed the story, telling WetPaint.com, "That report is dead wrong. She is not pregnant. Wrong, wrong, wrong."
So are Kimye expecting their first child together, or not? Honestly, we have no idea … but we'll definitely keep you posted!
UPDATE: It's true!!!
The whole Kardashian Klan is tweeting about it:
Been wanting to shout from the rooftops with joy and now I can! Another angel to welcome to our family. Overwhelmed with excitement!

— Kourtney Kardashian (@KourtneyKardash) December 31, 2012
whos excited about the KIMYE babbyyy?! 😀 weeee

— Kendall Jenner (@KendallJenner) December 31, 2012
KIMYE!!!!!

— KhloéKardashianOdom (@KhloeKardashian) December 31, 2012
Keeping secrets is hard with so many family members! Especially when you are so freaking excited!!!!! LOVE is everything!!!!

— KhloéKardashianOdom (@KhloeKardashian) December 31, 2012
I'm excited for Kanye and my sister! There's nothing like bringing life into this world! Let's keep Gods blessings coming!

— LAMAR ODOM (@RealLamarOdom) December 31, 2012
Im a happy girl !!!!!!!!! Wowza!

— Kris Jenner (@KrisJenner) December 31, 2012
Oh BABY BABY BABY!!

— Kris Jenner (@KrisJenner) December 31, 2012
Published