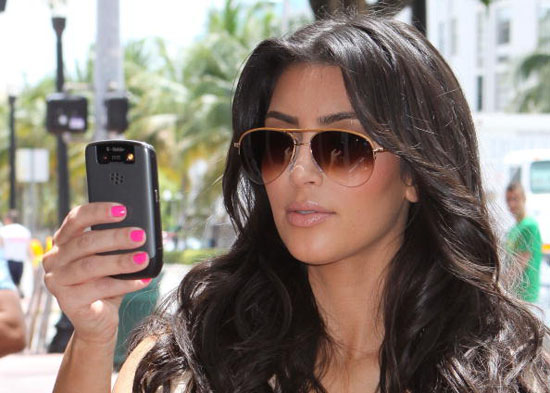 Everyone on Twitter LOL'd at Kim Kardashian earlier today after she, with extremely good intentions, messed up the lyrics to Juicy J's "Bandz A Make Her Dance" — the highly celebrated stripper anthem of the year 2012 — with the following tweet:
— Kim Kardashian (@KimKardashian) December 13, 2012
To be fair, we're not sure whether or not Juicy J even speaks English, as most of his lyrics are very hard to decipher (We'd be totally lost if it weren't for Rap Genius) … so we can understand how someone like Kim Kardashian could easily mess them up.
But the fact that she messed up the actual TITLE of the song (Really? "BandsTOMakeHerDance"? SMH) is what has the whole Twitterverse up in arms.
Peep some of our favorite reactions to Kim's tweet below:
TO Make Her Dance? Quit while you're ahead. RT @kimkardashian: #BandsToMakeHerDance

— Matt (@FuckAHoroscope) December 13, 2012
"@kimkardashian: #BandsToMakeHerDance" #BandsAMakeHerDance you mean? Lol — Natalia(@nataliahinnawi) December 13, 2012
RT @kimkardashian: #BandsToMakeHerDance < I hate you so much words cannot describe — Winston Wolf (@JeromeSchmidt) December 13, 2012
bands A make her dance, you dumb ho. you out of all people should know the correct lyrics. RT @kimkardashian #BandsToMakeHerDance — crvck. (@lecrackattack) December 13, 2012
"@kimkardashian: #BandsToMakeHerDance" are you kidding me Kim.. you have to be kidding me — Kaitlin Luongo(@kaitlinluongo) December 13, 2012
"@kimkardashian: #BandsToMakeHerDance" hahahaha never heard this version before! ???????? — Hailey? (@Haaaileynicholl) December 13, 2012
"@kimkardashian: #BandsToMakeHerDance" kimberly if u quoting Juicy J quote him right girl…lawd! — Brick&Lace (@tehillagrace) December 13, 2012
"@kimkardashian: #BandsToMakeHerDance" #rayjwillmakeyoucum

— B ?(@brenda_billion) December 13, 2012
LoL FAiL! Try again ?"@kimkardashian: #BandsToMakeHerDance"

— Luyanda Goxo (@Lulu_Kinzz) December 13, 2012
"@kimkardashian: #BandsToMakeHerDance" bands A make her dance.. #ESTUPID — elayne. (@elameeee) December 13, 2012
"@kimkardashian: #BandsToMakeHerDance" smh nah — Mr.Tucker (@00Ruski) December 13, 2012
"@kimkardashian: #BandsToMakeHerDance" black dick makes you dance. — DatPrettyMF'er (@MikeyKnoxx) December 13, 2012
"@kimkardashian: #BandsToMakeHerDance" LOOOOL please evaluate your life babe — 17th December (@WaleedGudluks) December 13, 2012
"@kimkardashian: #BandsToMakeHerDance" it's #BandzAMakeHerDance you stupid hoe — Marcus A Perez (@MarcusHYPE) December 13, 2012
Wrong lyrics but that was cute…. Feeling a little ratchet?! "@kimkardashian: #BandsToMakeHerDance" — Imani Blair(@imaniblairr) December 13, 2012
"@kimkardashian: #BandsToMakeHerDance" thanks Kim cause we haven't heard that one before

— Kelsie Marlo (@KelsieLately_) December 13, 2012
Nooo kim you got it all wrong. Smh????RT @kimkardashian: #BandsToMakeHerDance

— ?arissa houk(@LarissaHouk) December 13, 2012
Kim… just stop RT @kimkardashian: #BandsToMakeHerDance

— Samantha ? (@metzzzyyy) December 13, 2012
Every second, every minute, man I swear that she is stupid…but she can still get it!! #datAss :O RT @kimkardashian: #BandsToMakeHerDance

— Ashlin Gounden (@AshGounden) December 13, 2012