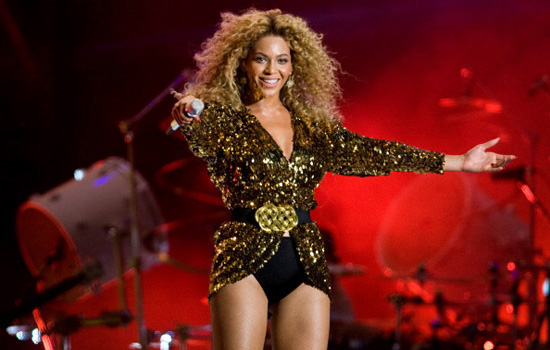 Beyonce fans, it's time to get excited. On Monday (Nov 26), HBO announced that they will be airing a new documentary starring Beyonce, who will also direct it!
The film is set to premiere on February 16th (following her Big Super Bowl performance), and will combine footage of her onstage performances with private behind-the-scenes moments shot by Beyonce herself, according to the Hollywood Reporter.
"HBO has a history of pushing every boundary with class and authenticity," the 16-time Grammy winner said in a statement. "Some of my favorite shows are on HBO, so I am excited that my film will be part of its bold programming. This film was so personal to me, it had to have the right home."
Describing it as a "multi-faceted portrait," HBO says the "intimate" film will feature a ton of personal footage, some of which was shot by Beyonce herself on her laptop, as well as vintage home movies of the superstar from her childhood growing up in Houston, TX.
Beyonce fans will also be glad to know that footage of the singer as a new mother will also be included in the documentary.
"Everybody knows Beyonce's music, but few know Beyonce the person," said Michael Lombardo, president of HBO Programming. "Along with electrifying footage of Beyoncé onstage, this unique special looks beyond the glamour to reveal a vibrant, vulnerable, unforgettable woman."
Beyonce fans, are you excited yet? Because if not … you should be!!!
These people sure as hell are:
CANNOT wait. RT "@eonline: Beyoncé will be the focus of an intimate feature-length HBO documentary film premiering Feb. 16, 2013!"

— Lauren Elizabeth (@sweet0peach) November 26, 2012
OMG!! I CAN'T BREATHE!!! THE QUEEN!!!! RT @shanno22 RT @beyoncelite: BEYONCÉ + HBO = A NEW DOCUMENTARY FILM!beyonce.com/news/beyonce-p… — L.Teezy (@steptoya) November 26, 2012
beyonce.com/news/beyonce-p… @beyonce . Documentary . HBO . Oh my god. — Rachel Binder (@aprilfourthIV) November 26, 2012
HBO is producing a BEYONCE DOCUMENTARY!!!!!!!!!!! Seriously all I want for Christmas

— Caroline C (@Diva_C2) November 26, 2012
I can't wait for Beyonce's documentary to air on HBO in February sooooo excited !!!

— Alicia Demirjian (@AliciaDemir) November 27, 2012
DHSKSKDNNDSJSKSJWJABSJDJNENKSKDNJEJSJA OMG *collapses* BEYONCÉ IS DOING AN HBO DOCUMENTARY. I CAN'T. JESUS BE SOME OXYGEN RIGHT NOW.

— Brandon(@brandonagustus) November 26, 2012
Published