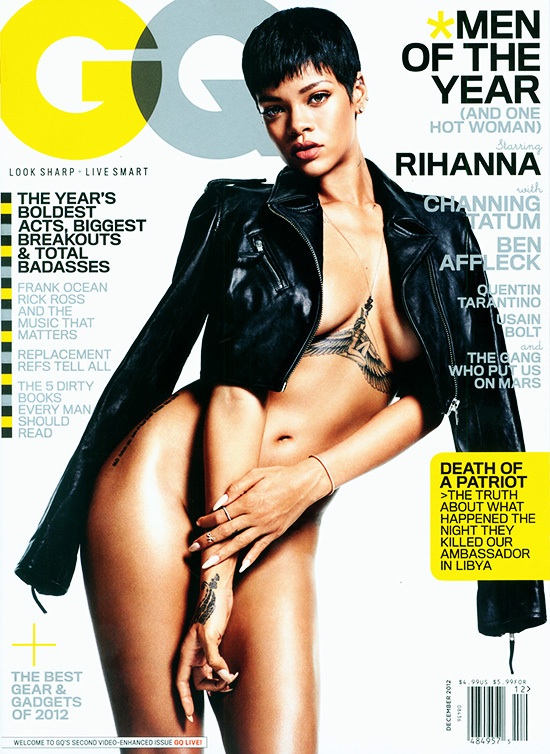 It's no surprise that Rihanna — who is apparently allergic to clothing, or practices a religion that forbids clothing, or something — is naked on the cover of GQ magazine's December 2012 "Men of the Year" issue … but with a body like that, why the hell not?!?
Leaving very little to the imagination, Rihanna rocks a short leather jacket, and absolutely nothing else (other than than her tattoos) as she carefully places her arm between her legs to cover her lady parts.
Rihanna is so far the only woman to grace the cover of GQ's annual "Men of the Year" issue, and inside, the singer talks about her career, almost getting a face tattoo (really, Rihanna? a FACE tat?!?), what turns her on sexually and more, including whether or not she thinks Drake and Chris Brown's fight was over her.
Check out a few highlights from the interview, along with more photos of Rihanna, below!
On fame, and loving her career:
"Sometimes a person looks at me and sees dollars. They see numbers and they see a product. I look at me and see art. If I didn't like what I was doing, then I would say I was committing slavery."
On almost getting a face tattoo the night before her GQ interview:
"The tattoo artist said nope, I'm not gonna do it," she says, "because if you're looking at your face, it's right there staring at you."
On her sexy image:
"That comes from my culture. That's just the way it's always been, and I think that for people, especially in America, they make it like the forbidden fruit, but that only makes kids more curious. [In the past], I was a lot more naive about the way I moved and the way I was being perceived. The more you hear people talk about 'Oh, you're a sex symbol,' it just makes you think, 'Why are you saying that?' And I figured it out."
On what turns her on:
"I like to feel like a woman," she says. "I have to be in control in every other aspect of my life, so I feel like in a relationship, like I wanted to be able to take a step back and have somebody else take the lead." GQ asked, 'Do you ever switch things up?' to which she answers, "I could absolutely be dominant. But, in general, I'd rather… How do I say this in like a…non-X-rated version?"
And last, but most certainly not least, Rihanna was asked about the Drake and Chris Brown's infamous fight at W.i.P. nightclub in New York City a few months ago. Her response?
"There's no proof of that being for my love. That's my answer to that question."
Then there's this little gem at the end of GQ's piece, detailing the interviewer's wild night with Rihanna:
We all head out to a club in the meatpacking district, Griffin. But by the time we get there, Rihanna's mood has noticeably shifted. She's detached, rocking hypnotically, slow-dancing solo.

Then the DJs shout out names of the stars there that night: Chris Rock, Dave Chappelle, Rihanna, and Chris Brown. The last name reverberates over a clamorous 2 Chainz track. The crowd does a double take, like Chris Brown? Here we go!

…it can't be a coincidence, she and Brown being here together. By the morning, the tabloid story of their encounter — the woman who drives men crazy, going back to a man the world thinks is at least a little bit nuts — will be everywhere. But here's what I witness:

Chris Brown brashly stands on top of his bench in the neighboring booth. He and Rihanna start tossing flirtatious glances like kids passing notes in middle-school math class.

The smirks and the playfulness continue until they're dancing with each other from afar. Then, out of mock frustration, Brown climbs over the top of the booth. A mischievous tingle of controversy vibrates through the club.

There, in the middle of all the craziness: Rihanna stares straight at me and passes me a spliff. She turns her green-hazel Bambi gaze back to Brown and begins to sway those famous hips from side to side. It's 2 a.m. She looks like she's just getting started.

"This is some movie shit, ladies and gentlemen!" the DJ bellows. "We see you, Chris and Rihanna!"

[GQ]
Rihanna's next album "Unapologetic" — a very fitting title, especially considering the way she lives her life — hits stores on November 19th.
Rihanna is also scheduled to kick-off her 7-day "777" promotional tour for the album Wednesday night (Nov 14) in Mexico City. She'll play concerts every day (through the 20th) in six other cities also, including Toronto, Stockholm, Paris, Berlin, London and New York City.