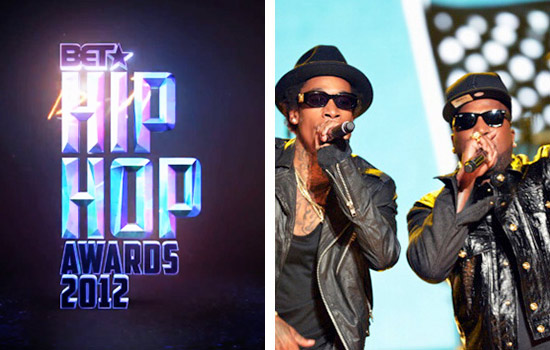 The 2012 BET Hip-Hop Awards aired on TV Tuesday night (Oct 9) after being held in Atlanta earlier this month. The show, hosted by Mike Epps, featured performances from Wiz Khalifa, Young Jeezy, 2 Chainz, T.I., Future, Rick Ross and many others.
The 2012 BET Hip-Hop Awards also featured a tribute to Violator manager Chris Lighty from Q-Tip, Busta Rhymes, Missy Elliott, Fat Joe, 50 Cent and A Tribe Called Quest.
Hip-Hop legend Rakim was the recipient of the "Hip-Hop Icon" award form T.I. and Kendrick Lamar, the latter of which was honored as "Lyricist of the Year," and also performed during the show.
Diddy, Machine Gun Kelly, Kirko Bangz, Omarion, French Montana and Meek Mill were also among the rappers who took to the stage during this year's BET Hip-Hop Awards, hosted at Atlanta's Boisfeuillet Jones Civic Center.
Watch the performances from the 2012 BET Hip-Hop Awards here:
Wiz Khalifa, Young Jeezy & Juicy J – "Work Hard, Play Hard (Remix)"
Meek Mill – "Amen" + "Young & Gettin It" (with Kirko Bangz)
Kendrick Lamar – "The Recipe" + "Swimming Pools (Drank)"
2 Chainz – "Birthday Song" + "I'm Different"
T.I. – "Trap Back Jumpin'" + "Go Get It"
Future & Diddy – "Turn On The Lights" + "Same Damn Time" / MGK – "Wild Boy" / French Montana (f/ Uncle Luke) – "Pop That"
Rick Ross & Omarion – "Hold Me Back" + "Ice Cold"
Chris Lighty Tribute (with Missy Elliott, 50 Cent, Fat Joe, Busta Rhymes, & A Tribe Called Quest)
Published