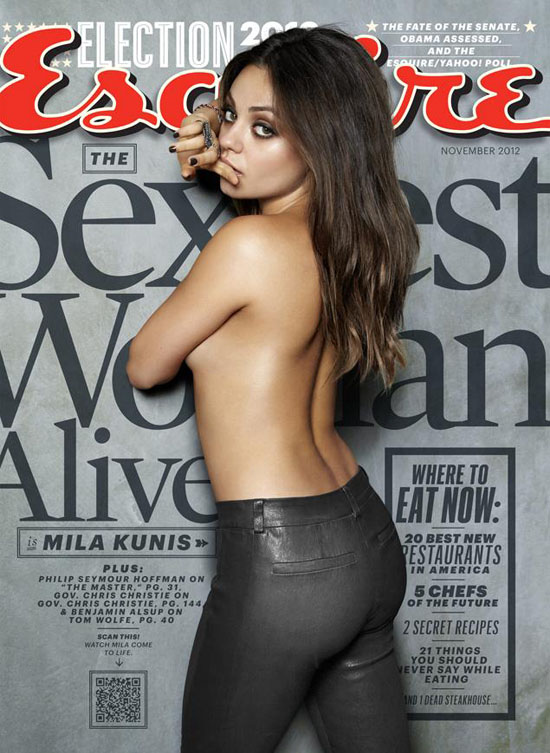 According to Esquire magazine, Mila Kunis is the "Sexiest Woman Alive," and the 29-year-old actress shows up (almost) topless on the cover of the mag's November 2012 issue to show us why she's been given that title.
Inside, Kunis opens up about being funny and how "That 70's Show" helped jump-start her career.
"I think I stumbled upon doing funny things, but I'm not funny. I just know how to deliver a joke," she told Esquire.
"Through twenty years of doing this, I practice it. I think that the second you think that you're funny is when you stop being funny," she added. "You learn a lot. Jokes come in threes . . . you can learn the timing of a joke, but it doesn't mean that you're going to become Lucille Ball."
Mila also talked about fleeing her native country Ukraine with her family in 1991 when she was just 8 years old to escape widespread antisemitism, though she admits the story was "made into something bigger than it needs to be."
She said, "My parents should sit down and talk about it … They're the ones who went through hell and back, who gave everything up. I didn't do anything. I was eight years old, and I tagged along."
After getting her start on "That 70's Show," Kunis has gone one to score big movie roles in "Forgetting Sarah Marshall" and "Black Swan."
Kunis also voices Meg Griffin on "Family Guy" and starred in creator Seth MacFarlane's big screen comedy "Ted" earlier this year. (She's also set to star in the upcoming sequel)
Esquire's newly crowned Sexiest Woman Alive — who is set to star in 2013's "Oz: the Great and Powerful" alongside James Franco and Michelle Williams — also spoke on how she stays grounded.
"I think that I've consciously separated my two lives. I love what I do. I couldn't imagine anything else. But when I'm done with work, I'm done with work," she told the magazine.
"I think that if I bought into the hype, I would lose all sight of who I am, and so much of who I am is what my parents went through and instilled in me. And I never want to lose that. Ever," she continued.
In the interview, Kunis also touches on the lack of privacy she has now that she's a big movie star and all.
"It's common sense: Privacy is privacy. I no longer have it," she said.
When Mila was asked if she she was waiting for the question about who she's dating, she quickly fired back, "Not from Esquire."