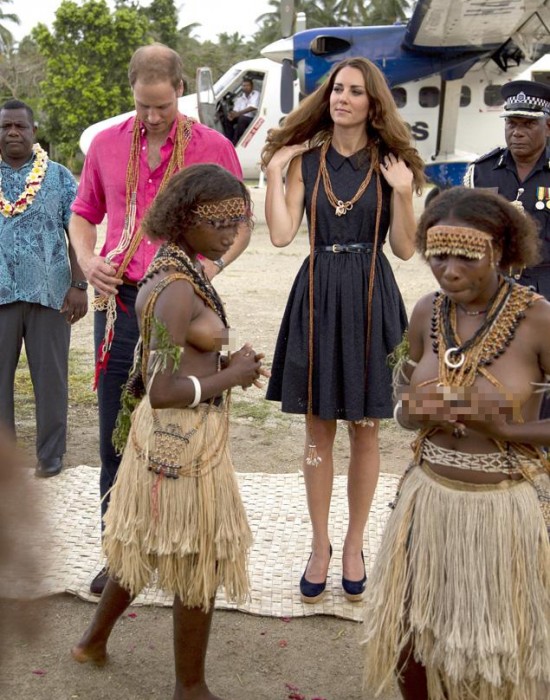 Well this is ironic. After crying bloody murder and running around in a tizzy after topless photos of her sunbathing in France leaked to the French press, Kate Middleton was greeted with a pair of big fat tits when she landed in Marau in the Solomon Islands as part of her and Prince William's Southeast Asia tour, according to reports from the New York Daily News.
Give Kate some credit, she did manage to keep her composure for the most part while confronted with the freely flapping breasts of the Solomon Island women.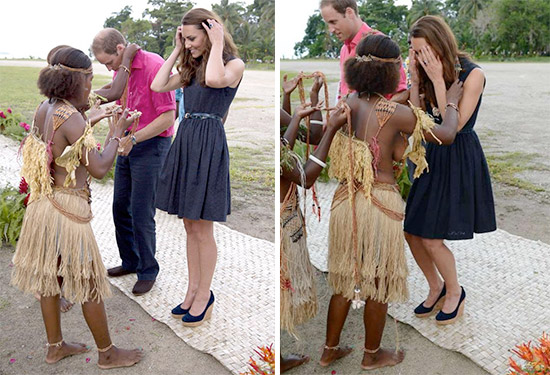 We can only imagine the discussion the tribal women had in their native tongue about the future heiress to the throne of England, but they probably said something like, "What's this bitch mad about? She ain't barely got no titties and she's mad that people even bothered to look lift their gaze toward her flat chest?" Or at least that's what we're told.
In other Chestingham scandal news, Wills and Kate scored a legal victory over Closer, the French tabloid that originally published the controversial images. ABC News has the full story:
The royal family scored a legal victory today when a French court ordered a French gossip magazine to turn over all digital copies of photos of a topless Kate Middleton reportedly sunbathing in the south of France or pay a hefty fine if it ignores the ruling.

Under the court order, Closer magazine, which first published the photos Friday of the Duchess of Cambridge sunbathing alongside husband Prince William at a private chateau while on vacation, must turn in all digital copies of the photos by noon Wednesday, must not print the photos further and will face a $12,000 fine each time it defies the ruling.

The royals acknowledged the court's decision today with a simple statement.

"The Duke and Duchess of Cambridge welcome the judge's ruling," a representative for St. James's Palace said.
Oh. Ok, that's nice. So they shut one magazine down. Now they have how many more to go?
Oh, and good luck trying to wipe those images from the Internet. You know the web is worse than an elephant. Not only does it never forget, but it'll GIF and meme the things you wish would disappear from sight too.
As for Alfonso Signorini, the editor of Italian magazine Chi which published even more of the revealing photos of Kate, he said he ain't nevah scurred of any of the Royal Family's lawyers.
According to ABC News, he said "not even a direct call from the Queen" would have stopped him from publishing the photos.
Signorini also has a sense of humor. He tweeted a joke about the situation to his followers:
Promesso. Il topless della regina Elisabetta non lo pubblico

— Alfonso Signorini (@alfosignorini) September 16, 2012
In case your Italian is rusty, he roughly said, "I promise. The topless photos of [Queen] Elizabeth I won't publish."
Oh, he's a sharp one. He knows damn well people would be more likely to pay him not to publish the Queen of England's dried up chest raisins than they would to publish them.
In fact, publishing those photos would probably violate the Geneva Convention against cruel and unusual punishment.
Outrage is strongest in the UK, where the UK press is absolutely fraught with fright over publishing the photos. And fellow Brit Kelly Osbourne came running to Kate Middleton's defense.
Yes, the wildest, rudest, nastiest of the Osbourne clan is taking a stand for modesty and decency. Imagine that.
Kelly gave her two cents to Now magazine:
I think what they've done to her is disgusting, I really, really do,' says Kelly, 27.

'Everyone has the right to privacy no matter who you are, no matter who you are – it's disgusting.'
Lectures on privacy from someone who made part of her fortune by turning the cameras on for every mundane part of her life. The hypocrisy is suffocating.