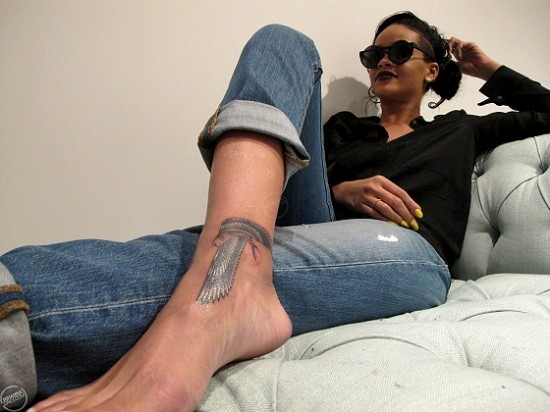 So what does a girl do when her ex-boyfriend and alleged on/off fling duke it out in an NYC hotspot and the whole world is watching her? Well if her name is Rihanna … she gets a new tattoo!
The pop singer recently got herself inked up by her favorite tattoo artist "Bang Bang," who gave the singer a tattoo of a falcon with its wings forming a gun shape.
As most celebs do, Rih-Rih took to Twitter to share her latest marking, and tweeted:
"Falcon: a light that shines in the darkness! Never close their eyes during sleep."
Believe it or not … this makes Rihanna's 17th tattoo!
Her other 16 tattoos are:
A Maori-inspired design on her right hand

The Sanskrit prayer "forgiveness, honesty, suppression, and control" on her right hip

A trail of stars descending down her back

A treble clef and musical note on her foot

"Love" on her middle finger

The Pisces zodiac sign behind her ear

The words "rebelle fleur" (which means rebel flower in French) on her neck

"Shhh…" on her index finger

Roman numerals on her left shoulder

A pistol on her right ribcage

The phrase "always a lesson, never a failure," spelled out backwards (for convenient mirror reading) just below her collarbone

A star on her left ear

A skull & bones with a pink hair bow on her ankle

"Al Hurria fi Al Maseeh" — an Arabic phrase that means "Freedom in God" — on her left ribcage

"Thug life," a tribute to late rapper Tupac, spelled out in white ink across her knuckles.

An message written in Tibetan
Get a closer look at the Rihanna's 17th tattoo below:
[Pics: Rihanna Daily]