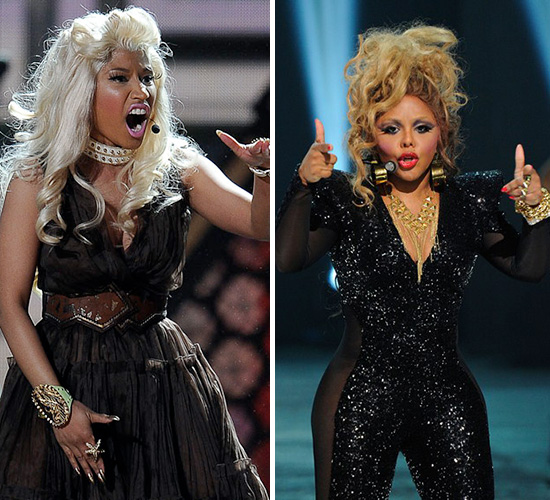 Lil Kim dropped by Power 105's "The Breakfast Club" last week where she revealed the root of her beef with Nick Minaj.
"Me and Slim were friends for four years, and we decided we were going to do business together. I was over there at Cash Money, and I was getting ready to be partners with him. When I was over there, we were working a lot. I was in Miami and he would put me in the studio."
Kim says when a song she did with a then-unknown Nicki Minaj for Baby's solo album didn't take off as he predicted, all communication between her and Cash Money was nixed, and Nicki randomly started dissing her on tracks.
"The problem with her is, she was very catty with it. I never had a problem with her. I was always nice with her. Always. She was a very obnoxious person, but I was very nice with her. From the time I saw her in that dressing room, the story she told, I don't even know what the heck she was talking about. That's not even how it happened.

"But from the moment that I met her, I was always cool with her. But after that, it almost seems like, when they realized, OK, we need Kim, we want to study her swag, that's what it kind of felt like because I was around for a long time. They were like, OK, let's study her swag and I think they wanted to get that record just to stamp that I was OK with what was going on."
Kim also recalled when she and Nicki were together at a birthday party for Diddy's oldest son, and Nicki "rolled her eyes" at her.
"After that whole Cash Money situation with the song, we're at Justin's birthday party. Perfect time to come up and say, 'Hey, we did the song together.' Nothing. And she looked at me and rolled her eyes, and I was like, really? Every single record she made was coming at me … She was coming at me in the Puffy record and in the Jay and Kayne record."

[…]

"She wanted to be the only female out there. So when Baby said we not f*ckin' with this chick cause you can't stand next to her, she loved it! She didn't want to stand next to me." Lil' Kim added that in the music industry men pit women against each other and Kim said, "Don't come at me indirectly in records…..don't do that. At the end of the day, she should have just said 'I don't care, you my b*tch, I want to do other stuff with you."
The Breakfast Club crew asked Lil Kim if there was any chance that she and Nicki Minaj could reconcile in the future, and her response was very straight-forward:
"It will never happen."
Check out the full interview below: