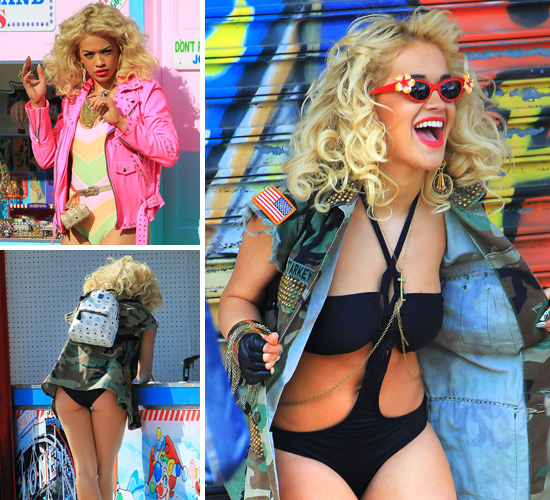 Rita Ora was sizzling hot as she modeled various sexy one-piece swimsuits earlier this month during a photoshoot in Brooklyn, New York.
The 21-year-old blonde bombshell, who originally hails from the UK, appeared to be channeling her Roc Nation labelmate Rihanna as she rocked three different swimsuits.
Ora is being groomed as the next big thing by Jay-Z's Roc Nation, and over the past two years, she has been busy recording her first studio album with big names like Will.i.am, Drake, The-Dream, Kanye West, Ester Dean and others.
She has already released two music video from the project, one for the U.K. ("R.I.P." feat. British rapper Tinie Tempah), and the other for the U.S. ("How We Do (Party)")
The rising Pop star said of her debut album, "It definitely has pop in it, but you can hear influences of jazz in there, you can hear influences of Monica and Aaliyah, and then you can hear Gwen Stefani."
More pics of Rita Ora on location for a photoshoot in Brooklyn are below: