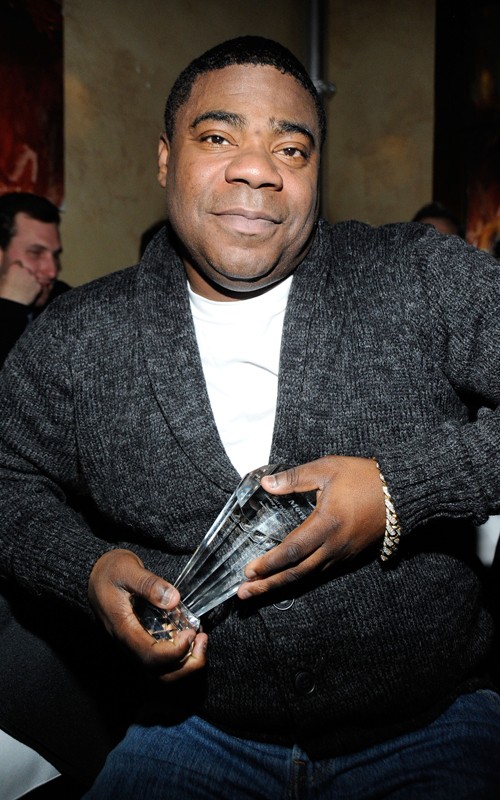 Comedian Tracy Morgan is reportedly "doing much better" after being rushed to the hospital after he collapsed at a dinner during the Sundance Film Festival in Utah Sunday night (Jan 22).
According to various reports, the "30 Rock" star was being honored at the Creative Coalition Spotlight Awards in Park City, Utah when he fainted outside the venue after he gave his acceptance speech.
Reps for the funnyman say he passed out due to "from a combination of exhaustion and altitude," adding that no drugs or alcohol were found in his system after he was evaluated by medical professionals.
"Any reports of Tracy consuming alcohol are 100% false," Tracy's representative Lewis Kay said in a statement.
Making light of the situation, Tracy tweeted the following today:
Superman ran into a little kryptonite. The high altitude in Utah shook up this kid from Brooklyn.

— Tracy Morgan (@RealTracyMorgan) January 23, 2012
He also thanked the hospital staff and his fans for their support:
Thank U 2 the hospital staff. Back at work 2morrow shooting 30 Rock. Holla at me!

— Tracy Morgan (@RealTracyMorgan) January 23, 2012
Gotta thank the AMAZING medical staff and all my supporters! Love you. #GOgiants @Giants #ALLIN

— Tracy Morgan (@RealTracyMorgan) January 23, 2012
Check out a few photos of Tracy Morgan at the Sundance Film Festival in Utah on Sunday below: