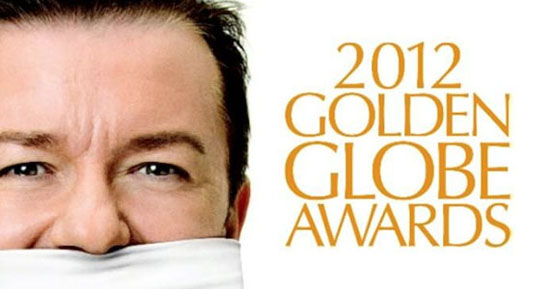 The 2012 Golden Globe Awards were hosted by Ricky Gervais (for the third time in a row) live from the Beverly Hilton Hotel in Beverly Hills Sunday night (Jan 15).
Big winners for the night included George Clooney, Meryl Streep, Idris Elba, and the movies "The Artist" and "The Descendants."
Morgan Freeman was also honored during the three-hour ceremony, with Freeman taking home the Cecil B. De Mille Award, presented to him by legendary actor Sidney Poitier, which Freeman said was an honor in itself.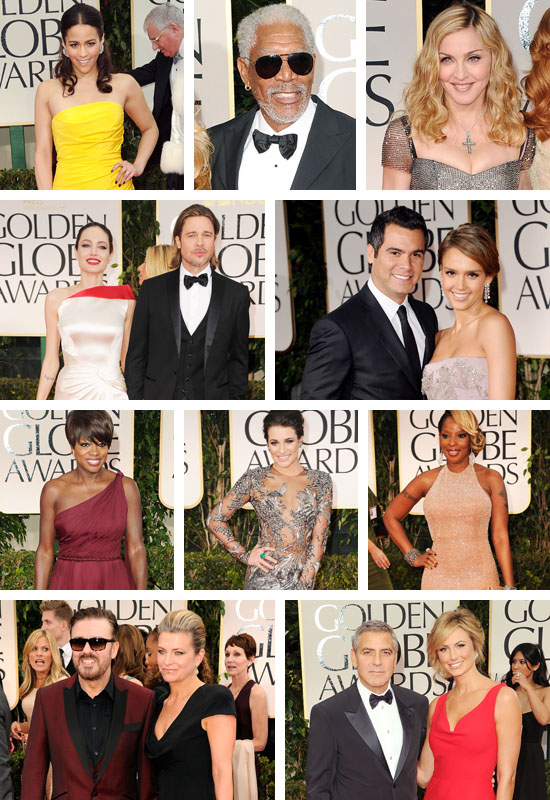 PHOTOS: 2012 Golden Globe Awards Red Carpet Arrivals
Pop diva Madonna also took home a Golden Globe Award for best song for "Masterpiece," from her film "W.E.," which she wrote and directed. She shared the award with co-writers Julie Frost and Jimmy Harry.
Who else walked away with Golden Globe Award trophies Sunday night? Look below for the full list of winners!
MOVIES
BEST MOTION PICTURE, DRAMA
The Descendants
BEST MOTION PICTURE, MUSICAL OR COMEDY
The Artist
BEST DIRECTOR
Martin Scorsese, Hugo
BEST DRAMATIC ACTOR
George Clooney, The Descendants
BEST DRAMATIC ACTRESS
Meryl Streep, The Iron Lady
BEST ACTOR, COMEDY OR MUSICAL
Jean Dujardin, The Artist
BEST ACTRESS, COMEDY OR MUSICAL
Michelle Williams, My Week With Marilyn
BEST SUPPORTING ACTOR
Christopher Plummer, Beginners
BEST SUPPORTING ACTRESS
Octavia Spencer, The Help
BEST ANIMATED FILM
The Adventures of Tintin
BEST FOREIGN LANGUAGE PICTURE
A Separation
BEST SCREENPLAY
Woody Allen, Midnight in Paris
BEST ORIGINAL SCORE
The Artist
BEST SONG
"Masterpiece," W.E.
TELEVISION
BEST TV SERIES, DRAMA
Homeland
TV SERIES, MUSICAL OR COMEDY
Modern Family
BEST ACTRESS, TV DRAMA
Claire Danes, Homeland
BEST ACTOR, TV DRAMA
Kelsey Grammer, Boss
BEST ACTOR, TV MUSICAL OR COMEDY
Matt LeBlanc, Episodes
BEST ACTRESS, TV MUSICAL OR COMEDY
Laura Dern, Enlightened
BEST MINISERIES OR MOTION PICTURE MADE FOR TELEVISION
Downton Abbey
BEST PERFORMANCE BY AN ACTRESS IN A MINISERIES OR A MOTION PICTURE MADE FOR TELEVISION
Kate Winslet, Mildred Pierce
BEST PERFORMANCE BY AN ACTOR IN A MINISERIES OR A MOTION PICTURE MADE FOR TELEVISION
Idris Elba, Luther
BEST PERFORMANCE BY AN ACTRESS IN A SUPPORTING ROLE IN A SERIES, MINISERIES OR MOTION PICTURE MADE FOR TELEVISION
Jessica Lange, American Horror Story
BEST PERFORMANCE BY AN ACTOR IN A SUPPORTING ROLE IN A SERIES, MINISERIES OR MOTION PICTURE MADE FOR TELEVISION
Peter Dinklage, Game of Thrones
CECIL B. DEMILLE LIFETIME ACHIEVEMENT AWARD
Morgan Freeman