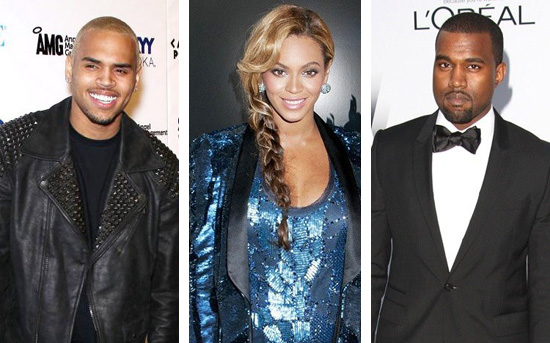 The nominations for the 2011 Soul Train Music Awards were announced late last week, and leading the pack is Chris Brown with 5 nominations, followed by Beyonce and Kanye West, each with 4 nods.
Other artists up for awards include Kelly Rowland, Adele, Marsha Ambrosius and Miguel, who all have 3 nominations a piece.
The 2011 Soul Train Awards will be hosted by Cedric "The Entertainer" and will feature performances from Jill Scott, Robin Thicke, Natalie Cole, Mindless Behavior, Joe and BeBe Winans.
The show will tape on November 17th at the Fox Theater in Atlanta, and will air on BET on Sunday, November 27th at 9 pm.
The full list of nominees for the Soul Train Awards is below:
Best New Artist
Bruno Mars
Marsha Ambrosius
Miguel
Frank Ocean
Best Male R&B/Soul Artist
Trey Songz
Chris Brown
Cee Lo Green
R. Kelly
Eric Benet
Miguel
Centric Award
Ledisi
Raphael Saddiq
Bilal
Anthony David
Aloe Blacc
Best Caribbean Performance
"Bend Over" — Machel Montano
"Man Down" — Rihanna
"Delilah" — Movado
"Wotless" — Kes the Band
"Summertime" — Vybz Kartel
Best Gospel Performance
"I Smile" — Kirk Franklin
"Walking" — Mary Mary
"Heaven Hear My Heart" — Trin-I-Tee 5:7
"I Believe" — James Fortune, featuring Shawn McLemore
"More" — Cece Winans
Album of the Year
"Passion, Pain & Pleasure," Trey Songz
"21," Adele
"F.A.M.E.," Chris Brown
"Light of the Sun," Jill Scott
"4," Beyonce
"Watch the Throne," Jay Z and Kanye West (The Throne)
Best Hip-Hop Song of the Year
"Moment for Life" — Nicki Minaj
"All of the Lights" — Kanye West
"Look at Me Now" — Chris Brown, featuring Busta Rhymes and Lil Wayne
"Out of My Head" — Lupe Fiasco
"Otis" — Jay Z and Kanye West
Best Female R&B/Soul Artist
Kelly Rowland
Beyonce
Marsha Ambrosius
Jennifer Hudson
Jill Scott
Mary J. Blige
Song of the Year
"So in Love" — Jill Scott, featuring Anthony Hamilton
"Motivation" — Kelly Rowland, featuring Lil Wayne
"Sure Thing" — Miguel
"Rolling in the Deep" — Adele
"She Ain't You" — Chris Brown
"All of the Lights" — Kanye West
Record of the Year (The Ashford & Simpson Songwriter's Award)
"Rolling in the Deep" — Adele
"Far Away" — Marsha Ambrosius
"Best Thing I Never Had" — Beyonce
"Good Man" — Raphael Saddiq
"Hold My Hand" (duet with Akon) — Michael Jackson
Best Dance Performance
"Motivation" — Kelly Rowland
"Only Girl (In the World)"/"What's My Name" — Rihanna
"Run the World (Girls)" — Beyonce
"She Ain't You" — Chris Brown
"Walking" — Mary Mary
"Pretty Girl Rock" — Keri Hilson