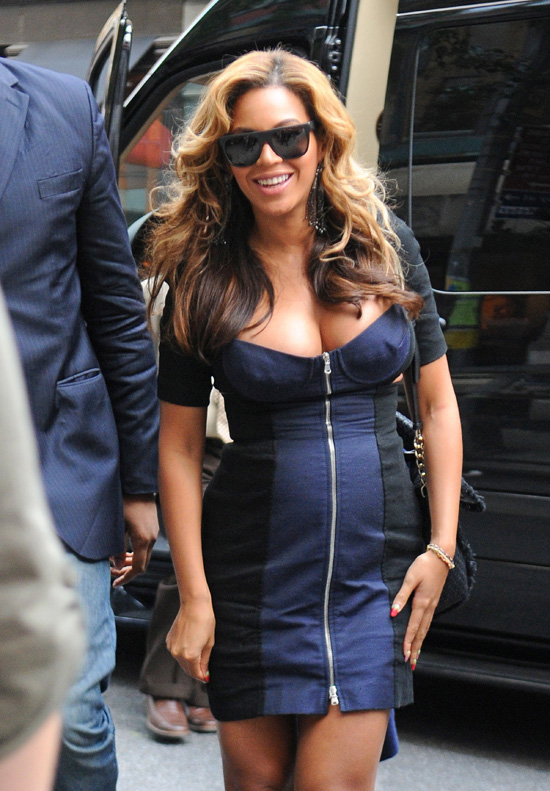 Beyonce didn't let a little rainy weather stop her from making a few runs in New York City Friday afternoon (Oct 14)!
With her famous handler Julius by her side, the singer, who had recently been the subject of a nasty rumor alleging that she's faking her pregnancy, showed off her growing baby bump as she ran some errands and paid a visit to her BFF Gwyneth Paltrow's video set before heading to her offices in the Big Apple.
Meanwhile, Molly Meldrum, the host of Australia's "Sunday Night HD" (where the "fake baby bump" rumors started), recently called into a radio show and gave his thoughts on the crazy Beyonce rumors.
"It is a baby under Beyonce's bonnet (as you put it), yes," he said. "She's not freaking out [about the rumors] nor is Jay-Z. They are delighted."
When asked directly if Beyonce's baby bump "collapsed" due to the result of a weird camera angle, Meldrum had this to say:
"Weird angle in what respect? That's the biggest nonsense I've ever heard in my life. She is well and truly pregnant, believe me, and the baby is due out in February. I think that's weird. People's imaginations tend to go a bit too wild. She's a pregnant beaming woman. I've known Beyonce for a long long time since Destiny's Child first rolled onto the scene.

"[Beyonce and Jay-z] are very private people. She said nothing until the Video Music Awards and she was starting to show so she decided to tell everyone. A lot of young ladies have become pregnant, Whoopi and others have waited until the time to disclose [they were pregnant] until they are at least 12 weeks.

"[She's ] most definitely [pregnant], those little booties I gave her will go to either the boy or the girl, whatever it may be."
Beyonce's rep has since denied the rumors, calling them "stupid, ridiculous and false."