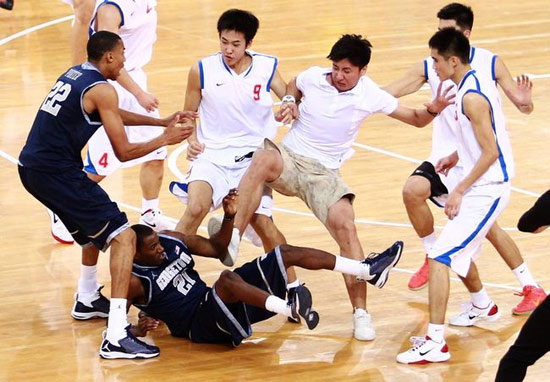 When tempers flare … someone gets hit with a chair!
A complete melee broke out yesterday during an exhibition basketball game between the Georgetown University Men's team and China's Bayi Rockets at the Beijing Olympic Basketball Arena.
It all started when players on both teams began to get extra-physical over a loose ball.
Peep the crazy footage (along with more details and pics) below:
A bench-clearing brawl at an exhibition game between American and Chinese basketball teams has marred U.S. Vice President Joe Biden's relationship-building visit to China.
The incredible fight between the Georgetown University men's basketball team and the Bayi Rockets forced the game on Thursday night in Beijing to end early.

Players exchanged blows, chairs were thrown and spectators tossed full water bottles as players and coaches headed to the locker room. Georgetown are in the country on a goodwill tour.

On Wednesday, Mr Biden watched the Georgetown Hoyas play another Chinese team. Mr Biden did not attend Thursday's game.

Georgetown head coach John Thompson III said in a statement: "Tonight two great team played a very competitive game that unfortunately ended after heated exchanges with both teams. We sincerely regret that this situation occurred."

Mr. Thompson pulled his players off the court with nine minutes 32 seconds left in the game and the scored tied at 64, the Washington Post reported, after a chaotic scene in which members of both teams began throwing punches and tackling one another.

Immediately before the fighting began, Bayi forward-centre Hu Ke was called for a foul against Georgetown's Jason Clark, the Washington Post reported.

The senior guard took exception to the hard foul and said as much to Hu, triggering an exchange of shoves between the two.

That sparked the bedlam which ensued as players from both benches ran onto the court.

Georgetown senior centre Henry Sims had a chair tossed at him by an unidentified person, and freshman forward Moses Ayegba, walked onto the court with a chair in his right hand.

According to Georgetown officials, Ayegba had been struck, prompting him to grab a chair in self-defence.

Before anyone was seriously hurt, Thompson said, "We're outta here," the Washington Post reported, and pointed toward the tunnel.

Fearful of reprisals from Chinese fans, members of the Georgetown staff were trying to find a police escort for the entire contingent, including alumni and supporters who attended the game as part of a 10-day tour of China.

But rather than wait, Mr Thompson told everyone to walk to the buses together.

[DM]