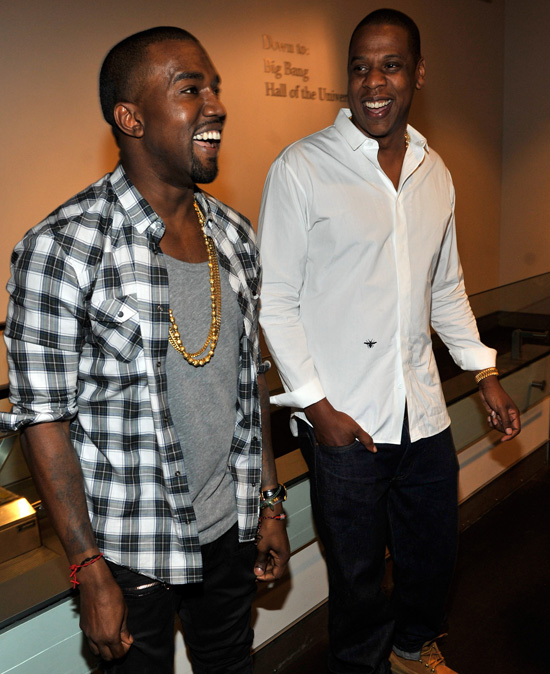 Jay-Z has denied allegations claiming he and Yeezy fell out over productions costs for their "Watch The Throne" tour.
"Jay-Z can't deal with Kanye," an alleged insider told Page Six. "Jay is a stone-cold businessman. He wants to recoup all of his money from Live Nation. But Kanye wants to upstage rock stars with a blowout show. He doesn't care about costs. He has a lot less to gain from the shows."
"Jay-Z is fed up with West's antics," another anonymous source allegedly revealed to the gossip rag. "He doesn't even want to be around him."
So in an effort to set the record straight and let the world know that there is no beef, Hov stopped by Hot 97 yesterday for an impromptu interview with radio personality Angie Martinez.
"Kanye is my brother," the rapper told Martinez. "Yes, we get on each other's nerves, but that's part of pushing each other. We push each other … the people who have a problem with Kanye or myself are complacent in life. They don't like to push. They don't want to be greater and we're pushing each other to be great. But that's in the studio. I have so much respect for him, I wouldn't put my hands on him. Never, no way."
Take a listen to the full interview below:
[audio:http://gossiponthis.com/wp-content/uploads/2011/08/jayangie1.mp3|titles=Jay-Z / Angie Martinez Hot 97 Interview – Part 1]
[audio:http://gossiponthis.com/wp-content/uploads/2011/08/jayangie2.mp3|titles=Jay-Z / Angie Martinez Hot 97 Interview – Part 2]
[audio:http://gossiponthis.com/wp-content/uploads/2011/08/jayangie3.mp3|titles=Jay-Z / Angie Martinez Hot 97 Interview – Part 3]
[audio:http://gossiponthis.com/wp-content/uploads/2011/08/jayangie4.mp3|titles=Jay-Z / Angie Martinez Hot 97 Interview – Part 4]