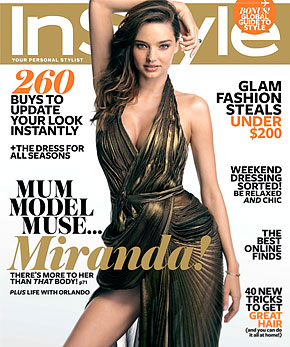 Miranda Kerr, who gave birth to a 9-pound 12-ounce baby earlier this year, says her labor pains were so intense … she thought the was dying!
In a brand new interview with InStyle Australia, the actress opens up about how painful giving natural childbirth was. "I actually thought I was going to die at one point and left my body," she says. "I was looking down on myself, the pain was so intense."
She continued, "I kept thinking, 'How do women do this? But if other women have done this, I can do it too.' I was determined."
The Australian supermodel and her husband Orlando bloom became first time parents to a baby boy named Flynn back in January.
"Flynn's birth is the best thing that has happened to me," she says in her cover story for Japan's Love Celeb magazine. "He is the light that illuminates my life … of course, Orlando is also the light. I love both of them very much."