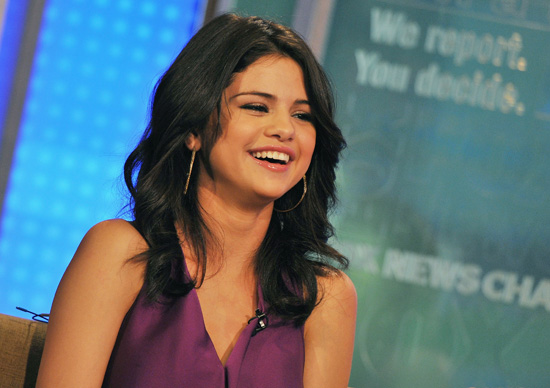 Selena Gomez is currently being eyed to have a starring role in a possible "Sex and the City" prequel.
Author Candace Bushnell has revealed that she wants to take her two "Sex and the City" prequels — "The Carrie Diaries" and "Summer and the City" — to the big screen, and she feels as though Selena would be ideal to play a young Charlotte York.
"You know, I don't know… casting is like kismet," Bushnell told the Daily Caller during a book launch this week. "I'm going to get into trouble for this, but I was looking at some pictures of Selena Gomez today and thinking she'd make a really good young Charlotte."
Bushnell adds: "She's so pretty. I was like … gosh, wouldn't she be great? Am I right or wrong? I'm not good at this. If I say something like that, then the next thing I know, people are like, no!"
Selena Gomez paid a visit to FOX Studios in NYC Wednesday (Jun 29) for an interview with "Fox and Friends." The singer/actress talked about her boyfriend Justin Bieber (of course), as well as her new album and movie, both out soon.
When asked if dating Justin Bieber could tarnish her Disney image, Gomez said:
"I have a right to live my life and I feel I've done a very good job in the position I've been put in. I should be able to grow up. I have finished with Disney Channel but that doesn't mean I want to completely disown the fact I do have a younger generation looking up at me, I guess. But in a way I feel like I have done the best I can and that's how I am. If I make my family and fans proud, that's all that matters to me."
Watch the interview and check out the pics below: