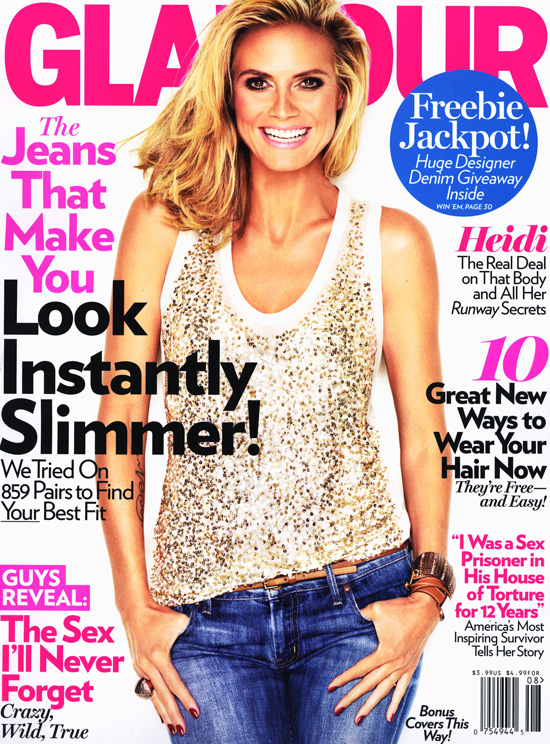 Heidi Klum poses on the cover of the August 2011 issue of Glamour Magazine, where she shares her sex secrets and explains how she likes to spice things up in the bedroom with her husband Seal.
"There's nothing wrong with a nice garter belt," she says. "I'm not saying you have to put up a pole in your bedroom and start swinging off the rafters. But I love that sometimes! My husband and I just had a 'sexy week' in London. I'd put on a super-short skirt with a garter belt on underneath so that when I'd sit, he could see it. It's fun to sauce it up a little bit."
The 38-year-old model (and mother of 3) also poses topless inside the issue.
Check out a few pics, along with some excerpts, below:
On her husband Seal:
"He's even hot when he's sleeping. He's a beautiful man. He's kind, he's a gentleman, and I watched him last night on stage, and he still rocks it. I'm like, 'Yeah, that's my man!'"

On relationships:
"I'm not someone who plays hard to get. This whole thing about 'Oh, let's exchange numbers' and then people wait four or five days before they call you? I don't see the point. If you feel something, why would you let that pass? You only live once."

On modeling well into old age:
"I'm going to be 80, walking with a stick down the runway."