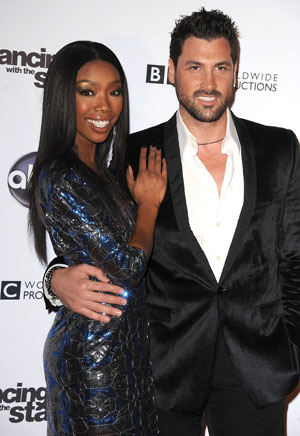 Brandy and her partner Maksim Chmerkovskiy were eliminated last night on "Dancing with the Stars," which means that Bristol Palin's non-dancing a** is still in the running for the title (despite her being in last place for the 7th time last night).
Brandy and Maksim being booted off the show came as a major surprise to everyone since they had a near-perfect score last night. And Bristol Palin just keeps making it through EVERY SINGLE WEEK with her low scores, fueling rumors that her mommy (Sara Palin) is using her political pull to reel in votes.
But Brandy says everything is good on her end, despite them being robbed of a chance to compete in the finale.
"If we were robbed, what it didn't steal is what I gained from working with [professional partner Maksim Chmerkovskiy], and that's confidence and, you know, self-assurance," she said. "All of the things I thought were gone, he really helped reawaken that in me and I'm good with that… Because now, I feel like I can do anything I put my mind to do."
Video footage of the elimination below: