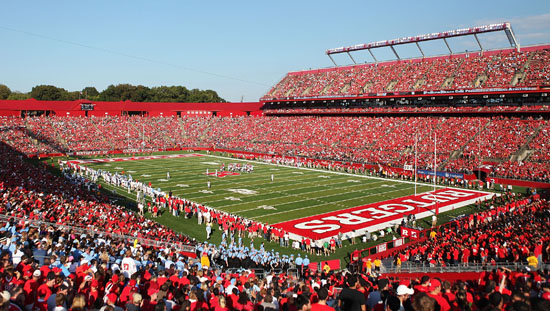 A Rutgers University football player was severely injured over the weekend when he collided with a player on another team!
During the Rutgers University vs. the Army Black Knights football game, after Rutgers tied the score at 17-17 in the fourth quarter and was in the middle of a kick-off, 20-year-old Eric LeGrand (Rutgers) attempted to perform a defensive tackle on opponent Malcom Brown (Army), and after the two of them clashed, LeGrand hit the ground and was motionless for nearly 10 minutes.
Medical teams were rushed onto the field and LeGrand was taken off the gridiron on a stretcher as Rutgers coach Greg Schiano tried his best to comfort LeGrand's mother, who (wearing her son's #52 jersey) was watching from the sidelines.
Eric went into surgery immediately after the incident to stabilize his spine, and the next day on Sunday (Oct 17) the school announced that he was paralyzed from the neck down. Eric's family has since released the following statement:
"We want to say thank you to everyone for all of your prayers, kind words, and well wishes. We appreciate every single thought. Eric is in good spirits and we are praying for a full recovery."
If you haven't seen it yet, catch the heart-wrenching footage of the accident below: