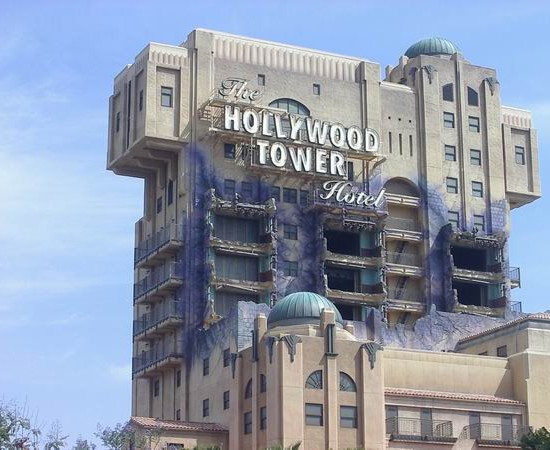 You big dummy!
Some drunk 20-year-old thought it'd be cool to play around and do Parkour tricks (or something) while waiting in line on the "Twilight Zone: Tower of Terror" haunted elevator ride at Disneyland in California…..and got himself injured after he fell 25 feet from a platform while waiting in the queue for the ride.
The local fire department was dispatched after MetroNet of Anaheim received a call at about 10:31 PM Wednesday reporting that a man had fallen after climbing over a rail. He was later treated for minor injuries at the University of California, Irvine, Medical Center and was released.
Shortly after the incident, Disneyland released this statement:
"Last night a 20-year-old male guest fell in the queue line at the Tower of Terror attraction at Disney California Adventure. The guest was standing in line with friends on a second-floor platform when he climbed over a barrier to the area below and lost his balance and fell approximately 25 feet. The guest was transported by ambulance to the hospital."
Gov. Arnold Schwarzenegger signed a legislation today that holds adults in the state of California accountable if youth they serve alcohol to are either injured or killed, and Wednesday's incident will be used as a model for his newly instated law.
A statement from conference organizers read:
"California becomes one of just a few states with a social host liability law that hold adults accountable for underage drinking," reads a statement from conference organizers. "Underscoring the significance, the signing comes one day after a 20-year-old who Anaheim police say had been drinking fell 25 feet from a Disney theme park ride, injuring himself."
Good job, kid! You could have REALLY hurt (or killed) yourself, SMH…