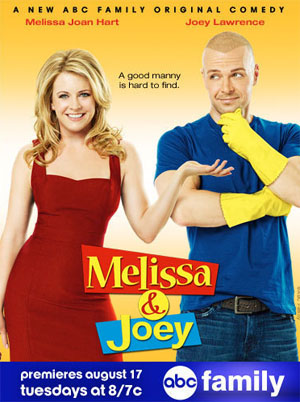 Actress Melissa Joan Hart and actor Joey Lawrence, who both achieved massive TV sitcom success in the 90's when they were teenagers, are teaming up on a brand new ABC Family sitcom with a name that should be hella easy to remember: "Melissa & Joey!"
You may remember Melissa Joan Hart as "Clarissa" who explained it all or as "Sabrina," who was a teenage witch. And you might remember Joey Lawrence from shows like "Blossom" or "Brotherly Love," in which he starred alongside his younger brothers Matt and Andy Lawrence.
But now, over a decade later in 2010, Melissa and Joey have joined forces for the new ABC Family sitcom "Melissa & Joey." The show, produced by Melissa Joan Hart and her mother Paula Hart, is set to premiere Tuesday night (Aug 17) at 8 PM on ABC Family.
Peep a short description of the show (and the promo trailer) below:
Melissa & Joey, a half-hour comedy with Melissa Joan Hart and Joey Lawrence executive producing and starring, finds Hart portraying Mel, the grown-up former wild child of a political family who is now a local politician herself.

When her sister ends up in prison and her brother-in-law flees after a scandal hits, Mel must take responsibility for her teen-aged niece, Lennox, and pre-adolescent nephew, Ryder. With Mel spread too thin to manage by herself, help comes in the unlikely form of Joe (Lawrence) who, desperate for a job, moves in and becomes the family's "manny."

David Kendall & Bob Young are executive producers and writers. Paula Hart also serves as executive producer.

Source: ABC Family
Published