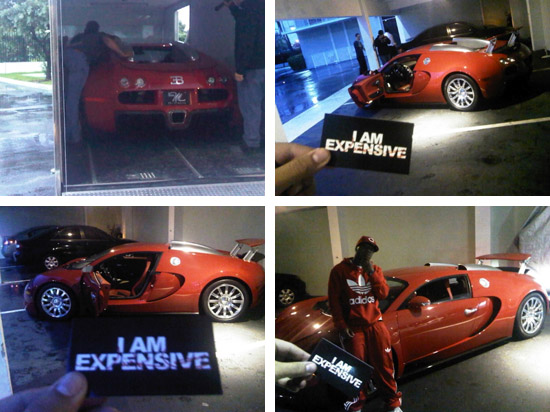 Birdman is BALLIN OUTTA CONTROL!
The Cash Money Records co-founder and CEO recently purchased a $2.1 million all red everything Bugatti Veyron, one of the most expensive automobiles in the WORLD. And not only that, it's also the fastest street legal car on the planet, reaching speeds of up to 267 miles per hour according to the Guinness Book of World Records.
Last week, video footage was released of Birdman (real name: Bryan Williams) wearing a matching red Adidas tracksuit as he showed off his brand new expensive toy, which we hear costs over $300,000 PER YEAR to maintain, and took it on a test drive shortly after it was delivered via a semi-trailer.
Peep the footage of Birdman showing off his brand new whip below:
<object width="560″ height="340″><param name="movie" value="http://www.youtube.com/v/1YIybMFJYnM?fs=1&amp;hl=en_US&amp;color1=0xe1600f&amp;color2=0xfebd01″></param><param name="allowFullScreen" value="true"></param><param name="allowscriptaccess" value="always"></param><embed src="http://www.youtube.com/v/1YIybMFJYnM?fs=1&amp;hl=en_US&amp;color1=0xe1600f&amp;color2=0xfebd01″ type="application/x-shockwave-flash" allowscriptaccess="always" allowfullscreen="true" width="560″ height="340″></embed></object>