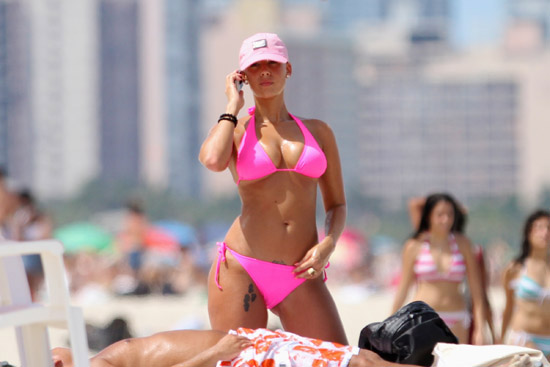 Kanye West's old flame Amber Rose was spotted looking all types of sexy in her hot pink bikini in Miami Beach, FL Monday afternoon (Aug 2). The stripper turned model was seen relaxing by the beach with her friends. Later she hopped on a jet ski and crashed, which was followed by this tweet: "Just had a lil Jet Ski crash I have a couple bumps and bruises but ya girl is ok. :-)"
Amber is rumored to be dating Kim Kardashian's ex, NFL star Reggie Bush, and recently tweeted: " I was so distracted today I fell into a Bush. / Ain't been in new orleans a hot 10 minutes and n****s in the airport yellin at me sayin amber rose come here lmfao!" but later deleted the messages.
So yeah… Sounds like Reggie's smashin now!
Peep the pics of Amber Rose in her itty bitty pink bikini on the beach below…