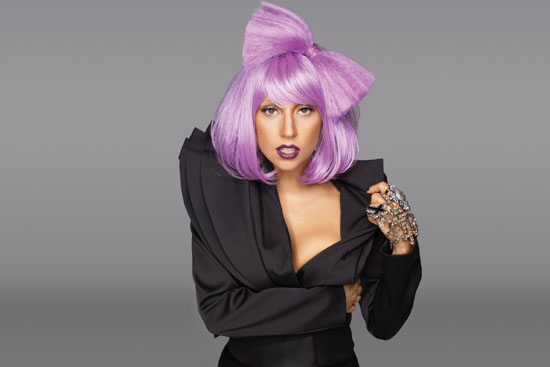 Lady Gaga wants you all to know that she's not done breaking records. MTV has just released the nominations for this year's Video Music Awards and Gaga leads the pack with a whopping 13 nods!
Not only is she the first person to receive that many nominations in a single VMA year, but she is the first female artist to be nominated twice in the category for "Video of the Year," for "Bad Romance" and "Telephone" featuring Beyonce.  Upon hearing of the feat, she said:
"I'm so honored for all the little monsters and self-professed freaks of the universe, to have more VMA nominations in a single year than any artist in MTV history. Ironically, I'm even more proud it's an unlucky number; 13. A long time ago the world told me and my little monsters we would never be heard, together we changed the rules.  God put me on Earth for 3 reasons: To make loud music, gay videos, and cause a damn raucous. Thank You MTV!"
Following Gaga are Eminem and Beyonce with 8 nominations. Other artists nominated are B.o.B with 5, Ke$ha with 3, and Justin Bieber with one nomination. The VMAs will air Sunday September 12th at 9 p.m.
Peep a snippet of the full list of nominees below:
VIDEO OF THE YEAR
Lady Gaga – "Bad Romance"
Florence + The Machine – "Dog Days Are Over"
30 Seconds to Mars – "Kings and Queens"
Lady Gaga f/ Beyoncé – "Telephone"
Eminem – "Not Afraid"
B.o.B f/ Hayley Williams – "Airplanes"
BEST MALE VIDEO
Eminem – "Not Afraid"
Usher f/ will.i.am – "OMG"
B.o.B f/ Hayley Williams – "Airplanes"
Drake – "Find Your Love"
Jason Derulo – "In My Head"
BEST FEMALE VIDEO
Lady Gaga – "Bad Romance"
Ke$ha – "Tik Tok"
Katy Perry f/ Snoop Dogg – "California Gurls"
Beyoncé f/ Lady Gaga – "Video Phone (Extended Remix)"
Taylor Swift – "Fifteen"
BEST NEW ARTIST
Ke$ha – "Tik Tok"
Jason Derulo – "In My Head"
Justin Bieber f/ Ludacris – "Baby"
Nicki Minaj f/ Sean Garrett – "Massive Attack"
Broken Bells – "The Ghost Inside"
BEST HIP-HOP VIDEO
B.o.B f/ Hayley Williams – "Airplanes"
Eminem – "Not Afraid"
Drake, Kanye West, Lil Wayne, & Eminem – "Forever"
Jay-Z f/ Swizz Beatz – "On to the Next One"
Kid Cudi f/ MGMT & Ratatat – "Pursuit of Happiness"
BEST POP VIDEO
Lady Gaga – "Bad Romance"
Katy Perry f/ Snoop Dogg – "California Gurls"
Ke$ha – "Tik Tok"
Beyoncé f/ Lady Gaga – "Video Phone (Extended Remix)"
B.o.B f/ Bruno Mars – "Nothin' on You"
BEST COLLABORATION
B.o.B f/ Hayley Williams – "Airplanes"
Beyoncé f/ Lady Gaga – "Video Phone (Extended Remix)"
Lady Gaga f/ Beyoncé – "Telephone"
3OH!3 f/ Ke$ha – "My First Kiss"
Jay-Z & Alicia Keys – "Empire State of Mind"
BEST CHOREOGRAPHY
Lady Gaga – "Bad Romance"
Lady Gaga f/ Beyoncé – "Telephone"
Beyoncé f/ Lady Gaga – "Video Phone (Extended Remix)"
Usher f/ will.i.am – "OMG"
Janelle Monáe f/ Big Boi – "Tightrope"
BEST DIRECTION
Jay-Z & Alicia Keys – "Empire State of Mind" (Hype Williams)
Lady Gaga – "Bad Romance" (Francis Lawrence)
Eminem – "Not Afraid" (Rich Lee)
Pink – "Funhouse" (Dave Meyers)
30 Seconds to Mars – "Kings and Queens" (Bartholomew Cubbins)
(Sidenote: We wonder if Kanye is invited?)
Spotted @ Rap-Up via MTV Buzzworthy