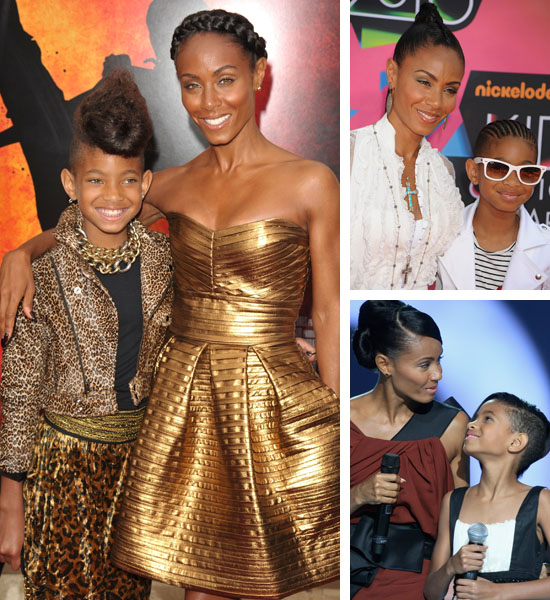 Many of you have probably seen Willow Smith hit the red carpet at different events with some of the most bazaar hairstyles ever seen on a young girl. Well her mother Jada Pinkett Smith was recently on "Lopez Tonight," and responded to folks criticizing her for allowing her daughter to shave the sides of her head. She also explained to George Lopez the story behind Willow's fun and innovative hairstyles.
Peep the video footage below (around the 3:30 mark):
"She decided, 'I want hair like my grandmother's.' I said 'Willow, grandma has no hair – you have to have some hair.' And she said, "Mom I'm really tired of the hair. I just really feel I'd like it to get in the pool. I want it to swim. I just don't want to be bothered with the hair.'" After discussing it with husband Will, Willow was given permission to shave the sides of her head.
After she talked it over with her husband Will, Jada says Willow was given permission to shave the sides of her head. Here's what her stylist, Marcia Hamilton said about the critics slamming Jada for shaving her daughter's hair off:
"Look, it's 2010. Can't our little girls move into the future without ruffling feathers? The look is fun, empowering, anti-relaxer and anti-weave. More women need to steer their little girls in this direction. If your child is a forward-thinker, you should guide her instead of smothering her."
While it may be a little bazaar, we think that people have to remember that we are talking about a kid who is being raised in Hollywood. Her hairstyles are quite bazaar, but we don't see anything wrong. Willow is just showing off her creativity just like any other kid her age would. Lighten up! Sheesh…
Spotted @ Necole Bitchie