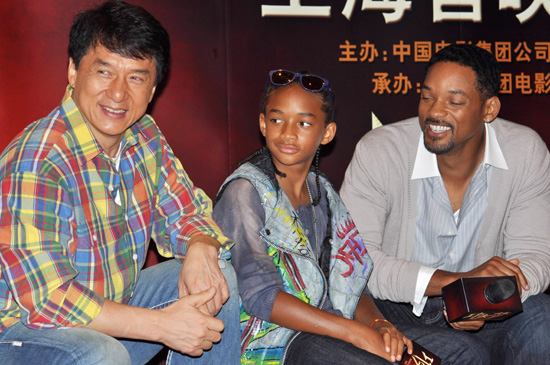 Child star Jaden Smith is on his way to greatness! Not only is he a mini version of his father Will Smith, already starring in major box office films at the age of 11, but he's a damn good martial arts fighter as well! In a recent interview, actor Jackie Chan spoke on Jaden's skill and dedication to the arts after working with him during training for their new film "The Karate Kid" last summer:
"After the movie, I told Will, 'Don't waste his talent; he's just so good.' He's (Jaden) still training every day."
Well apparently after making $56 million the first week with the "Karate Kid" and getting Jackie Chan's co-sign, Jaden will now be heading to Hong Kong for two months to finish off his martial arts studies. However he won't be going alone!
"Now he's asking to send him to Hong Kong for two months so he can continue his training. So I'll probably go to Hong Kong for two months and do that." Jada Pinkett-Smith told press. "I'll take Willow because she's learning Mandarin. She loves to learn Mandarin."
Keep up the good work Jaden!! We know you're making your parents proud. The kid is bringing in some big bucks…
Published