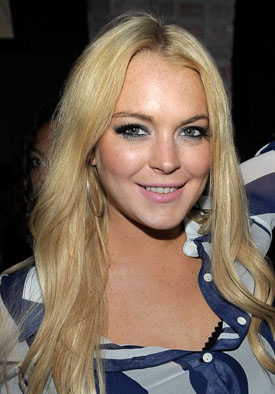 Lindsay Lohan just can't stay out of trouble…
The highly unfortunate actress ran into a little problem over the weekend following Sunday night's (Jun 6) 2010 MTV Movie Awards in Hollywood after the SCRAM bracelet she's been ordered to wear by the LA courts went off and generated a report indicating the presence of a small amount of alcohol.
Sources close to the star heavily refuted reports that the actress was drinking during the official MTV afterparty. Lindsay even took to her Twitter herself proclaiming her innocence and saying that it being set off was "physically impossible considering I've done nothing for it to go off."
But regardless, the judge presiding over her case issued a bench warrant for her arrest Tuesday (Jun 8) after determining that Lohan had violated the conditions of her bail. Beverly Hills Superior court Judge Marsha Revel also raised her bail to $200,000 (where it was previously $100,000), instead of throwing her in jail until her July 6th probation status hearing. And even at this point, Lindsay still maintained her innocence via her Twitter page: "I did not violate anything at all."
But everything is all good (for now at least) because the courts recalled the bench warrant within the hour it was issued after bail bondsman David Perez posted 10% of the $200k bond ($20k) on behalf of the 23-year-old starlet.
But this is where things get real. The judge says that if Lindsay violates the terms of the SCRAM program one more time, off to jail she goes until her July 6th hearing for allegedly violating her probation for DUI.
So at this point we'd advise Ms. Lohan to cross all her i's and dot her t's! One more screw-up and she'll definitely be facing some jail time…