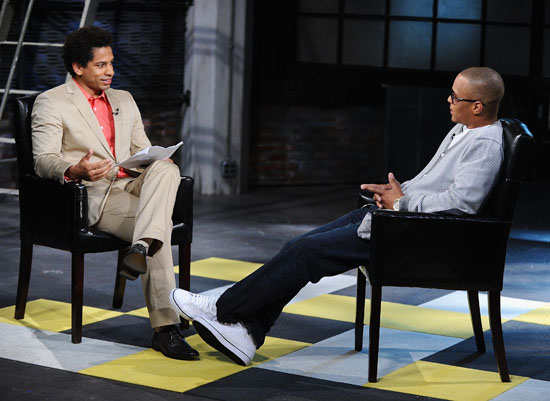 Wearing a cardigan button-up from his Akoo apparel line, T.I. sat down with Fuse host Toure for an interview at Fuse Studios in New York City yesterday (Wed. May 26).
In related news, the rapper recently told MTV that he recorded over 80 songs for his highly anticipated comeback album King Uncaged. He also dropped a few big names like Lady Gaga, Kid Rock, Keri Hilson, Trey Songz and more for possible features. But he says he's still putting together the final cut for the album, due to drop this August.
"I'm kinda doing a bit of the sequence," Tip said. "Of the 80 songs I have, I'm trying to filter out what may remain." Atlanta's lyrical emperor recorded a tune with Kid Rock that pays homage to Bon Jovi's "Wanted Dead or Alive" (Just Blaze produced that one). The-Dream checks in on "Show Me Your Tears," as does Keri Hilson on "I Got Ya Back." Tip and Trey Songz did a song that will probably be called "Strip." Lady Gaga has even laid down vocals for the LP.
While mentioning the names of the artists who might have guest spots on his new project, T.I. spoke highly of newcomer Lady Gaga. Check out a few pics of him at Fuse Studios yesterday below and continue reading to see what he had to say about Lady Gaga…
"Phenomenal talent. Extremely proud [to work with her]. She's definitely that good. She knows what she's doing. She knows exactly what she wants people to think and say. She does everything that she needs to be done to ensure it happens. I think she's an entertainer, in all aspects of the word," Tip said of working with the Gaga. "She's a classic, all-around entertainer. A global star."

When asked about the name of his Gaga collaboration, the King couldn't contain his laughter. "See, this is the thing: We gonna go back in and record some more songs," he began explaining. "But the one we have right now is titled 'Lick It.' I think we both have a tendency to shock the world in a lot of different ways.

"I just tuned in to another side of T.I.," he added of his approach on the record. That song is produced by Gaga's ace beat man, Red One.

SOURCE