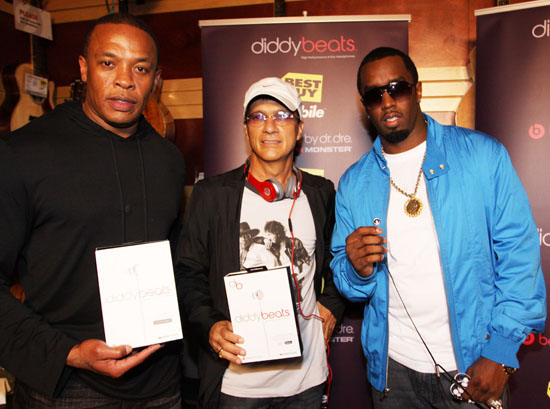 Rap moguls Dr. Dre and Diddy are officially business partners. The two Hip-Hop veterans teamed up to introduce "Diddybeats" in-ear headphones to the world at Best Buy in New York City's Union Square yesterday (Wed. May 26).
Diddy, whose Bad Boy imprint now calls Dr. Dre's Interscope recording label home, now joins the likes of Lady Gaga and Dr. Dre himself as artists with their own "Beats" branded premium headphones from Monster Cable. "Diddybeats" is the latest installment of Dr. Dre's highly successful "Beats by Dre" headphones.
All Hip Hop caught up with Diddy at the launch event and asked how hands on he was in the development of his new Diddybeats headphones.
"It was a true partnership between (Dr.) Dre and I. He took care of the sound part of it; I took care of the fashion part of it. I wanted to make them look as fly as Ferraris, Private Jets, Yachts. I also wanted to come with the colors; powdered pink, white and the sleek black that goes perfectly with the iPad."
Peep a few pics of Dr. Dre, Diddy and Interscope chairman Jimmy Iovine at the Diddybeats launch event at a NYC Best Buy below…